— By William Gagnon —
High-speed hand dryers offer total solution for retail restroom challenges.
Cleanliness and general appearance are top concerns for successful retail and restaurant establishments, which often rely on positive brand reputation and word-of-mouth advertising to keep their businesses running. Even one patron complaint about this aspect of a facility — including its restroom — can have detrimental consequences.
These establishments are often tasked with finding solutions that will not only keep the restroom environment visibly clean for employees and patrons, but ensure that they meet even the most stringent sanitary standards. Leading its industry, the manufacturer of the original, patented, high-speed, energy-efficient hand dryer provides an economical and hygienic answer to this challenging problem.
Public restrooms deal with a constant influx of visitors and require regular cleaning to keep up with traffic. Not only can damp, used paper towels pile up in and around restroom trash receptacles on the floor (creating an environment in which bacteria can thrive), but they often end up in toilets, leading to clogs. This disrupts operation of the restroom, may require costly services and takes time away from other maintenance tasks. Older-model hand dryers, which are typically made up of an inexpensive heating coil and fan, take an exceptionally long time to dry hands, if they dry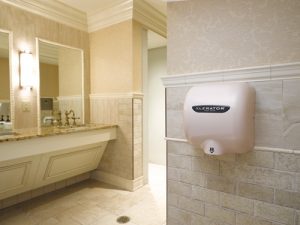 them at all. This can lead to long lines in the restroom and exasperated patrons left to wipe excess water off on their pants. Trough-style hand dryers are often no better a solution. They often become a collection basin for refuse and stagnant water, are expensive to maintain and present an incredibly dirty job to clean. If maintained infrequently or improperly, the basin leaves pools of water where bacteria can grow.
Distributors and end users should rest assured that high-speed, energy-efficient hand dryers are hygienic, as evidenced by the findings of independent, third-party testing conducted by several leading institutions:
The Mayo Clinic's comprehensive study compared four different drying methods — paper towels, cloth towels, warm forced air and spontaneous evaporation — and concluded: "There are no statistically significant differences in the efficiency of four different hand-drying methods for removing bacteria from washed hands."
An international study from Laval University in Quebec and published in The American Jour-nal of Infection Control, found 17 species of bacteria on unused, recycled paper towels. Its conclusion stated, "This pilot study demonstrated that a large community of culturable bacteria, including toxin producers, can be isolated from unused paper towels and that they may be transferred to individuals after hand washing. This may have implications in some industrial and clinical settings, as well as in immunocompromised individuals."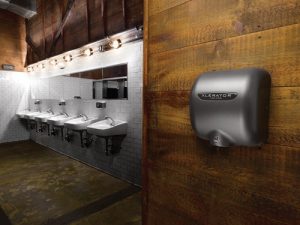 For retail and restaurant decision-makers looking for a clean, green solution that also results in cost savings, the industry's original, patented, high-speed, energy-efficient hand dryer is an effective choice. The product's hands-under design provides touch-free operation and uses a focused, high-velocity, heated air stream to dry hands rapidly. Further, switching to this dryer can mean a 95% cost savings versus paper towels, and a typical return on investment in under 12 months.
Restaurants rely on clean restroom environments for their staff, as they need a solution that doesn't lead to the spread of illness. Something as commonplace as the flu can pass among staff in a day, leaving managers scrambling for last-minute replacements or operating understaffed. For those environments that demand superior hygienic standards, HEPA filters are often an option with high-speed, energy-efficient hand dryers. These components remove 99.97% of potentially present bacteria at 0.3 microns from the airstream.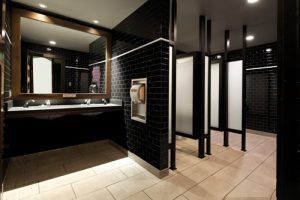 The success of any retail business depends on customer loyalty. Virtually every decision made should be about getting that patron back to your establishment. Store cleanliness, particularly in restrooms, must be a major consideration in that regard. High-speed, energy-efficient hand dryers help retailers all over the world — from major chains to mom-and-pops, to single chef owned restaurants — save money, reduce maintenance headaches and improve the customer experience. Eliminating paper towels not only makes patrons happy, it saves maintenance staff from spending their day unclogging toilets, picking up used paper towels and emptying overflowing trashcans.
Restaurateurs who want to stay on the cutting-edge should look to implement new hand dryer features which include adjustable speed, sound and heat controls, multi-voltage options and externally visible service LEDs. The original, patented, high-speed, energy-efficient hand dryer — which has led the way in the industry with all of these features — provides decision-makers with the best hand drying solution for any retail restroom environment.
— William Gagnon is vice president of marketing and sales for Excel Dryer in East Longmeadow, Massachusetts. Gagnon has over 15 years of industry knowledge and has helped position Excel Dryer's brand as the standard by which other hand dryers are judged.
classic-editor-remember:

classic-editor

abkw-text:
Tagged under