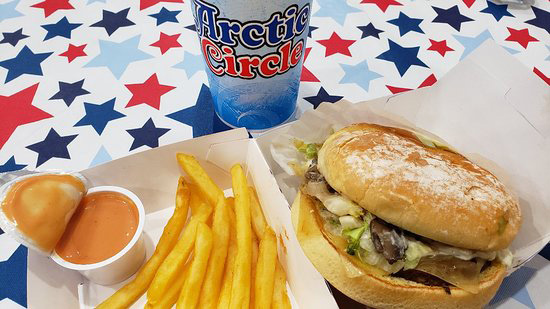 Scottsdale, Ariz. — The Arctic Circle Restaurant chain is partnering with Kitchen United in Scottsdale, Ariz., to offer delivery and fulfillment of its food. The new location opened for pickup and delivery on Oct. 25 at Kitchen United MIX on 7127 E. Shea Blvd. in Scottsdale.
Arctic Circle's new Scottsdale location will serve a limited menu featuring the restaurant's signature Black Angus Beef, 100% Real Alaskan halibut, salads, Above the Rim milkshakes, fries, onion rings and Original Fry Sauce.
"We're thrilled to offer the Scottsdale community the same brand of high-quality burgers, salads, shakes and fries made famous over the last 70 years," says Kasey Christensen, president of Arctic Circle. "Our partnership with Kitchen United allows burger enthusiasts in Maricopa County to conveniently order online for pickup or delivery."
Arctic Circle boasts 70 restaurants total: 37 in Utah, 26 in Idaho, two in Oregon and two in Wyoming, with single locations in Washington, Nevada and Arizona. Kitchen United operates six virtual, or "ghost," kitchen centers in Scottsdale, Ariz.; Pasadena and San Jose, Calif.; Chicago; and Austin, Texas.
"We're excited to have Arctic Circle join Kitchen United MIX in Scottsdale, Arizona," says Atul Sood, Kitchen United's chief business officer. "Kitchen United's turnkey solution powers popular and reputable restaurant brands like Arctic Circle to serve an entirely new audience opting to 'dine' outside the traditional four walls of a brick-and-mortar."
Though Arctic Circle's roots date back to 1924, original owner Don Carlos Edwards opened the nation's first Arctic Circle in Salt Lake City in 1950. Counting Utah, Arctic Circle's operations now span seven states in the West, with 70 total stores. Arctic Circle Restaurants are located in Utah, Idaho, Oregon, Washington, Nevada, Wyoming and Arizona. For more information, visit www.acburger.com.
Kitchen United MIX is the future of takeout & delivery and the nation's first "Multi-Restaurant Ordering" to-go experience. It's the only destination that allows foodie fans who love variety to order meals from 10+ restaurants, all on the same bill. The to-go food halls are home to 10+ restaurants in Pasadena, Calif., Scottsdale, Ariz., Chicago River North, Chicago The Loop, Austin, Texas; and San Jose, Calif., with more locations opening across the nation. For more information, visit www.KitchenUnited.com.
SOURCE: Arctic Circle Restaurants
classic-editor-remember:

classic-editor

abkw-text: