New York City — Atomic Wings, a 15-unit brand specializing in flavorful chicken wings, is starting off 2023 with significant Q1 growth. The New York-based wing franchise has 10 locations under construction, with plans to open throughout the year. The new growth will bring Atomic Wings to new states, including Arkansas, Nevada, Indiana and Texas. Atomic Wings will also launch its first two drive-thru locations — in Houston and Joliet, Ill. — later this year. The company is also thrilled to launch its Atomic Wings 2.0 remodel program later this year.
"2023 is going to be a phenomenal year for us. We're excited to introduce our great wings to people nationwide," says Zak Omar, CEO of Atomic Wings. "Growth has been tremendous over the past year and we are excited to maintain that momentum with new grand openings across the country. Our organic growth and commitment to quality have positioned us as a trusted brand in the industry."
To keep up with this trajectory, Omar says Atomic Wings has made sure to build out its support infrastructure behind the scenes. For example, this quarter saw Atomic Wings partner with Buxton, a real estate data company, to help franchisees analyze top-performing locations and identify ideal areas for future expansion. This strategic approach to growth ensures franchisees can confidently open new locations with a strong potential for success.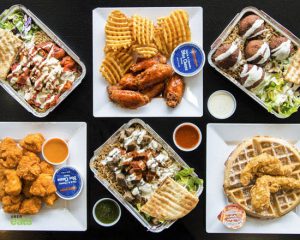 The new 2.0 remodel features a completely fresh look that stays true to Atomic's New York roots. The updated design, which was created in partnership with an industry-leading firm, includes a dedicated station for pickup orders in response to the increased demand for third-party delivery services, as well as a new logo, lighting and seating.
"Our new remodel sets Atomic Wings apart in the industry, offering a cozy and inviting atmosphere for friends and family to enjoy," Omar says. "The updated design is not only visually appealing but also streamlines the ordering process, providing an enhanced experience for both customers and franchisees."
Atomic Wings has also introduced a new mobile app, featuring the brand's first loyalty and rewards program, alongside the recent launch of its redesigned website. The company remains committed to providing unmatched support for franchisees through its robust technology platform and direct access to the corporate team.
"Overall, we are a small company, but we punch way over our heads — only the best for our franchise owners," says Omar. "As we continue to welcome new franchisees into our system, we want to ensure we hold their hands every step of the way, whether it be their lease, construction package, vendor lists, brand guidelines, equipment requirements or marketing strategies. Our corporate team has over 60 years of QSR experience and we know how to help you succeed with this business."
Looking ahead, the brand aims to explore international opportunities in South Asia and the Middle East.
Atomic Wings was created in 1989 with a mission to share authentic New York-style Buffalo wings with the world. Now, Atomic Wings is setting its sights on nationwide growth. In addition to its existing locations in New York and Maryland, Atomic Wings has additional units signed to open in Arizona, Nevada, California, Indiana and Texas. The brand is led by owners and brothers Zak and Ray Omar. For more information, visit https://atomicwingsfranchising.com/.
SOURCE: Atomic Wings