— By Trent Limban —
Snow season will sneak up on you! Now is the time to prepare.
Although it's summertime and blazing hot in most of the country, now is the time when multi-site facility managers should prepare for snow season. It's best to secure snow season services well in advance because you want to make sure there are contractors and equipment (like large front-end loaders) available to handle the services, and that your sites will be cleared immediately after the snow falls. You want your business locations to remain open and safe to the public regardless of the weather.
Since snowfall varies each year and is unpredictable (sorry Punxsutawney Phil!), there are different options when choosing your snow removal services. If you have an exterior services management company handling the snow and ice removal services at multiple sites in different states, you'll start by meeting to discuss preseason preparations, then determine how you want to set up the contract and organize the scope of work.
For preseason preparations, these the are the basic steps:
Step 1: Preseason inspection (Exterior Asset Inventory) of the property to check for prior property damage and see the size of the property for the extent of work required for snow removal.
Step 2: Determine the scope of work for the snow removal. This includes establishing the specific areas of the property that you want snow removed (parking lots and sidewalks), as well as ice control and snow hauling services. Something to consider is risk management. With an all-inclusive package, you would have the contractor/management firm service all areas of the property and all liability for risk management will fall on the contractor and/or management company. The contractor and or/management firm is responsible for ensuring there is safe ingress and egress in all serviced areas for snow removal and for removing icy, slippery conditions.
Should your business choose to self-perform any services in any areas (for example: private sidewalks), liability will fall on your business — not on the contractor or management company. It is important to know that not only do you accept the risk of slip-and-falls or property damage for self-performing in these areas with your clients, there is also the risk of your employees becoming hurt. This can become more costly than having the service provider handle the services. It's extremely important to ensure your contractor has the expected levels of liability and to have your company named as an additional insured.
Step 3: Prior to snow season starting, the contractor will go on-site and determine where to pile the snow since it will always be piled in a pre-determined area. If your property is smaller and runs out of room, then it will require a haul-away, which is typically an extra service. Contractors and management companies will proactively let facility managers know their spaces are getting too full. Some sites have plenty of room for snow to be piled, such as a large big box retailer; however, a smaller retail shop might not.
Pros and Cons: Seasonal vs. per push contracts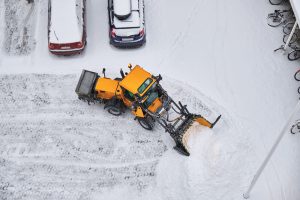 When it comes to a seasonal snow removal contract, it is a flat monthly fee regardless of the number of times it snows. With per push, the facility managers are billed for each time a service is provided. With either program, there is typically a "trigger" for when the snow removal contractor will be sent out to service a site. A standard trigger is two inches of snow, which means the site would be serviced every time there is two inches of snow on the ground.
Seasonal programs provide the FM with a predetermined budget for the entire season. For per push, contractors will automatically begin servicing when the trigger depth is met for snow plowing or will begin de-icing services during slippery conditions. Per push can be riskier, but there is a money saving benefit if there is little to no snow; however, if it's a heavy snow season, it will be more costly.
Contractors and management companies will monitor the weather for indications the "trigger" has been hit. Some management companies use third-party providers to monitor the weather in the different locations they service; however, it is always their priority to pay attention to the weather because if there is a snowstorm, they need to be staffed appropriately during off hours. The providers send daily weather reports with forecasted snow amounts — which then helps determine how many sites will be impacted.
Snow removal scope of work can vary by site
As stated earlier, snow removal is typically triggered when two inches of snow have accumulated on the ground, unless there is a different agreed-upon amount in the scope of work. In the scope of work, it can include plowing the parking lot, clearing the private and municipal sidewalks, de-icing services, and what to do when there is a prolonged snow event.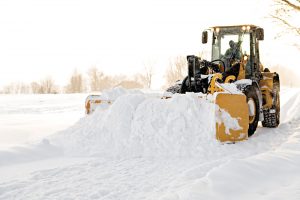 The ice control services can be handled as reactive versus proactive. According to the Snow and Ice Management Association (SIMA), anti-icing is the act of applying a deicer chemical (a liquid or a solid) to a surface before the storm starts in an effort to prevent ice from forming and bonding to the surface or to enhance plowing efforts. De-icing is the act of applying a deicer chemical (typically a solid or pre-wet solid) to an accumulation of ice or snow in an effort to melt it and weaken its bond to the surface.
Depending on the level of service needed and budget, both services can be rolled into a snow removal program's scope of work. If there is a prolonged snowstorm during business hours, every effort is made to make sure the drive lanes and sidewalks are clear of snow and ice.
The bottom line is this: you want to make sure you've secured snow removal services by fall for all your sites that could potentially have snowfall. Not only does it help your store have easier access for customers, but it creates a safe environment too.
— Trent Limban, director of quality services with DENTCO, initially started in the operations department and worked many long nights during many snow seasons. DENTCO, founded in 1977, is a national Exterior Services Management company that services multi-site companies such as restaurants, retailers, convenience stores and distribution centers.
classic-editor-remember:

classic-editor

abkw-text:
Tagged under