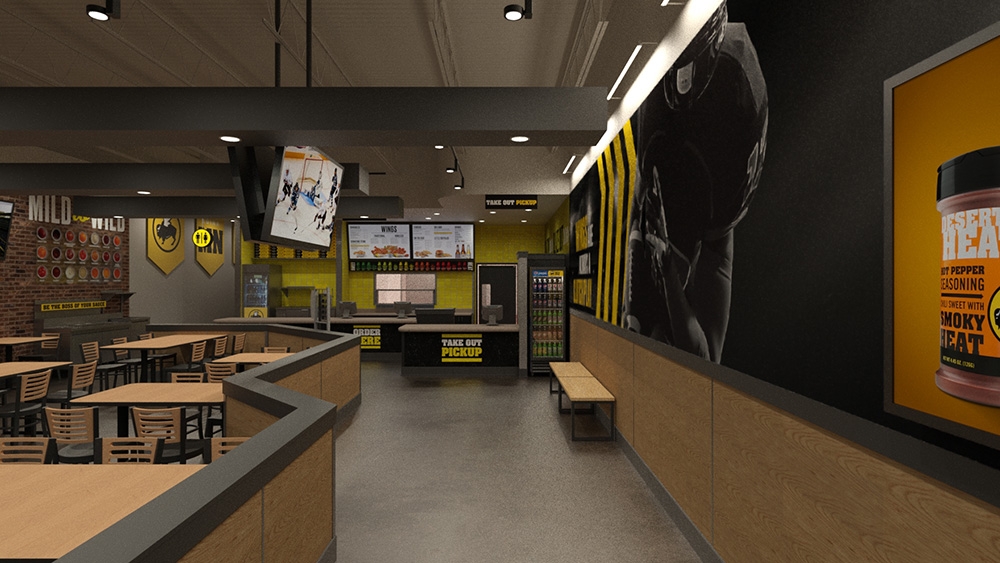 Minneapolis — Buffalo Wild Wings, Inc. will pilot two new small-format locations in the Minneapolis metro market this summer. Inspired by consumers' growing interest in takeout and at-home dining, B-Dubs Express will offer a streamlined, counter-service and sports filled environment.
"With B-Dubs Express, we are excited to deliver on guest feedback and passionately serve up high-quality wings to satisfy cravings even faster," says Todd Kronebusch, vice president of market development for Buffalo Wild Wings. "These first two locations in Minnesota will provide a great opportunity for us to test an alternative format and gain learning as we continue to look for ways to meet the changing needs of today's consumers."
Delivery will also be available through a partnership with DoorDash.
Each location will measure approximately 2,500 square feet with seating for about 35 to 50 guests. The pilot, company-owned locations scheduled to open late summer 2017 will be located in Edina, Minn., (7529 France Ave S.) and Hopkins, Minn., (525 Blake Rd N.). Buffalo Wild Wings is currently looking for future sites for B-Dubs Express in multiple markets across the country.
Buffalo Wild Wings, Inc., founded in 1982 and headquartered in Minneapolis, is a growing owner, operator and franchisor of Buffalo Wild Wings® restaurants. There are currently more than 1,230 Buffalo Wild Wings locations across the world.
For more information, visit www.BuffaloWildWings.com.
SOURCE: Buffalo Wild Wings