Nashville, Tenn. — Captain D's, a leading fast-casual seafood restaurant, has signed its first franchise development agreement in the greater New York City area. This agreement will bring three Captain D's to the city led by experienced multi-brand franchisees Kelly Moughal and Muhammad Saleem (pictured below), who first introduced the Checkers brand to Manhattan. The couple resides in New York and also owns multiple Subway and Little Caesars locations throughout the state.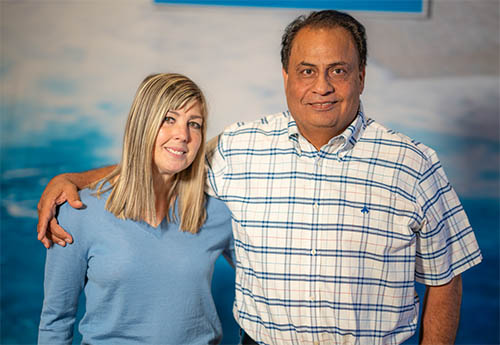 Sites are currently being considered throughout Manhattan and Long Island, with the first location expected to open in late 2024. The design of the New York City-area Captain D's will be customized for each site's considerations and will cater to the demands of an urban market with limited space and increased foot traffic.
"Captain D's is thrilled to enter the greater New York City market, and we could not have found a better franchising team to do that with," says Brad Reed, chief development officer of Captain D's. "Kelly and Muhammad have built an impressive portfolio of businesses and real estate throughout New York. Experts at growing high-volume restaurants, they already pioneered one brand's entrance into Manhattan. Their in-depth knowledge of the market and connections to real estate developers will serve them and Captain D's very well."
This agreement comes at a time of great momentum for the seafood brand, which has developed a robust lineup of restaurant prototypes — including a drive-thru/pick up-only Express model — designed to adapt to the increasingly competitive real estate market and provide franchisees with flexibility and substantial cost savings.
"At Captain D's, we have developed multiple real estate options to best serve the community and our franchisees," says Reed. "Whether that's converting an existing restaurant property, building a double drive-thru with a 44-seat dining room or our sleek Express unit with no dining room, we are meeting the demands of an ever-evolving market. In the greater New York City area, we will have an opportunity to capitalize on the efficiencies we've created with Express and pursue smaller footprints with no drive-thru."
Headquartered in Nashville, Tenn., Captain D's has more than 530 restaurants in 23 states. For more information, visit www.captaindsfranchising.com and www.captainds.com.
SOURCE: Captain D's