Atlanta — Carvel, the nostalgic ice cream franchise under the Focus Brands portfolio, is moving westward beyond its East Coast roots with its debut in a new market: Houston. This first-of-its-kind collaboration will bring Carvel to eight Houston-area locations over the next 5 years.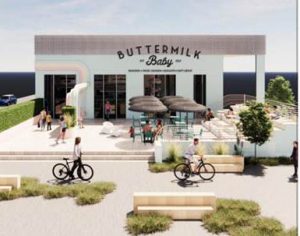 The new locations are Buttermilk Baby restaurants — the newest concept developed by Berg Hospitality. Each Buttermilk Baby restaurant integrates the Carvel brand in its design and menu offerings, bringing Carvel to Houstonians in a unique way.
Ben Berg, owner of Houston-based Berg Hospitality Group, is a restaurant connoisseur who grew up in New York and indulged in Carvel ice cream throughout his childhood. In fact, his grandfather was a Carvel franchisee in the 1950s. With these nostalgic ties, Berg has always dreamed of bringing Carvel to the South, and what better opportunity to do so by integrating the brand into his new "cool-casual" restaurant concept, Buttermilk Baby.
Buttermilk Baby will open in September at 600 N. Shepherd Dr. in Houston.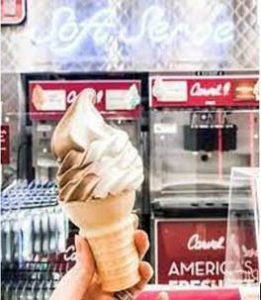 Buttermilk Baby's menu will feature classic Southern dishes, including breakfast platters, biscuits, fried chicken sandwiches, burgers and salads. The highlight of the menu will be the sweet treats from Carvel. Offerings include milkshakes, ice cream sundaes, the brand's signature creations and its custom handmade Celebration Cakes, such as the iconic Fudgie the Whale Cake.
While Carvel products are currently available in grocery stores throughout Texas, the brand is hyper-focused on franchise expansion via full shoppes, express shoppes, ice cream trucks, etc.
Carvel currently operates more than 400 franchised and foodservice locations across the country.
SOURCE: Focus Brands