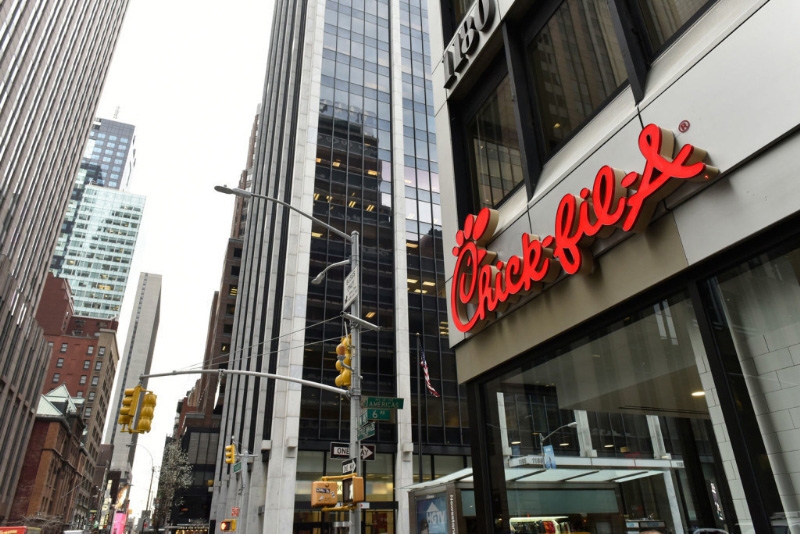 New York City — Just 5 months after opening its largest restaurant in the country in Manhattan, Chick-fil-A has opened a second location in the heart of Midtown at West 46th Street and 6th Avenue.
The restaurant, located just one block from Times Square and Rockefeller Center, is engineered to serve customers on-the-go, with an innovative service design geared to get customers in and out in 6 to 8 minutes in a space that is just 23 feet wide. Restaurant team members use tablets to take customer orders in line, so meals are ready once guests reach the counter.
Chick-fil-A at 46th and 6th is locally owned and operated by long-time Chick-fil-A franchise owner Al Puglisi. In the days leading up to the opening, Puglisi and his team surprised unsuspecting New Yorkers at pop-ups around Midtown, giving out free Chick-fil-A to thousands of New Yorkers and surprising 100 participants with free Chick-fil-A for a year.
The restaurant has partnered with regional farmers and suppliers to source regionally grown ingredients for its handmade menu items. The majority of fresh produce for Chick-fil-A's salads will be grown on farms in New York and New Jersey and will be delivered five to six times per week. The restaurant's fresh bread will be delivered daily from Automatic Rolls of New Jersey, and all of the restaurant's flatbread will be made and delivered by Brooklyn-based Damascus Bakery.
The restaurant is also partnering with New York Common Pantry — a local organization committed to reducing hunger in New York — to eliminate food waste by donating surplus food multiple times per week. Chick-fil-A began working with New York Common Pantry prior to the opening of Chick-fil-A at 37th and 6th and has donated more than 1,500 pounds of food since October 2015.
Chick-fil-A plans to open several other locations in Manhattan and the surrounding boroughs in the next 2 years. Chick-fil-A has one restaurant location in Port Jefferson in Long Island, and will open in the Long Island communities of Hicksville and Commack later this year.
Atlanta-based Chick-fil-A, Inc. is a family owned and privately held restaurant company founded in 1946 by S. Truett Cathy. Chick-fil-A has more than 2,000 restaurants in 43 states and Washington, D.C. Chick-fil-A system sales exceeded $6 billion in 2015, which marks 48 consecutive years of sales growth. For more information, visit www.chick-fil-a.com.
SOURCE: Chick-fil-A, Inc.
Tagged under