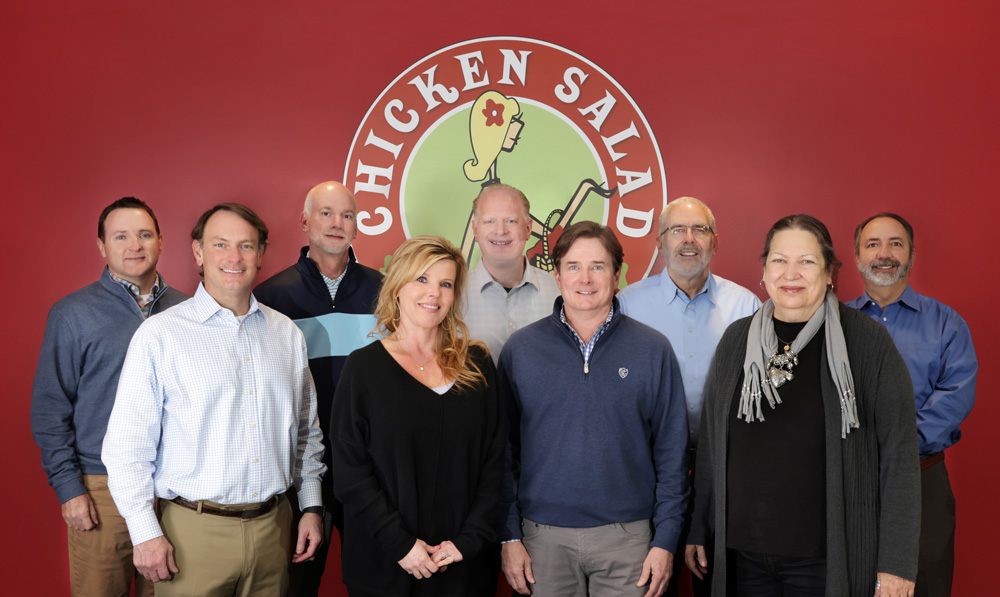 Atlanta — Chicken Salad Chick, the nation's only Southern-inspired, fast-casual chicken salad restaurant concept, plans to move its headquarters from Auburn, Ala., where it was founded in 2008, to Atlanta. The relocation is slated to take place during first quarter 2021.
The company's new office will be located in the Vinings section of Atlanta at the Overlook II building — across the street from its Vinings restaurant — housing the leadership team of approximately 40 current and new employees. Chicken Salad Chick expects 17 Auburn, Ala.-based corporate employees to transition to the new headquarters by May. The remaining 20 positions will be filled by local talent.
"Atlanta has always fostered a nurturing business environment for companies to kickstart their growth," says Scott Deviney, president and CEO of Chicken Salad Chick. "This relocation positions Chicken Salad Chick to scale at an accelerated rate and meet aggressive growth goals, while allowing us to broaden our vision for the future. We've seen increased interest from Atlanta's diverse and talented workforce, and the city's airport allows us swift access to prospective vendors and a growing pool of interested franchisees."
Chicken Salad Chick was founded in Auburn, Ala., by Stacy Brown and her late husband Kevin Brown in 2008. Her entrepreneurial spirit and passion for spreading joy, enriching lives and serving others remains the foundation of the brand.
"Auburn will forever be the special place in which Chicken Salad Chick was created and its home for the past 13 years. It gives me great joy to know that the loving, welcoming culture that started in our southern, Auburn community has now spread to so many others, far and wide," says Stacy Brown. "Moving the headquarters to Atlanta will support the company in achieving long term growth as we work toward making Chicken Salad Chick better for the future while still allowing our local restaurant teams to provide the same welcoming experience our guests have come to know and love."
Despite industry challenges due to the COVID-19 pandemic, Chicken Salad Chick's growth trajectory is highlighted by the opening of 37 new stores in 2020 (26 since June 2020). This comes on the heels of 44 new restaurants opened in 2019 and sets the stage for an estimated 40 more openings slated for 2021. The brand will continue its expansion to four more states within the next 2 years and projects a portfolio of 500 locations by the end of 2025.
Chicken Salad Chick hired nearly a dozen corporate positions locally in Atlanta throughout 2020 that will manage and support the rapid growth of the brand throughout the Southeast and Midwest. Chicken Salad Chick promoted three Atlanta-based executives to its C-suite, including Jim Thompson as chief operating officer, Terry McKee as chief development officer and Tom Carr as chief marketing officer. Most recently, Atlantans Marianna Magee (director of marketing), Jon Musser (director of supply chain), Mary Lou Atkins (vice president of human resources) and Kim Bolinger (director of operations) joined the team.
Georgia is home to 32 Chicken Salad Chick locations, the largest number in any state across the brand's footprint of 17 states.
SOURCE: Chicken Salad Chick
classic-editor-remember:

classic-editor

abkw-text: