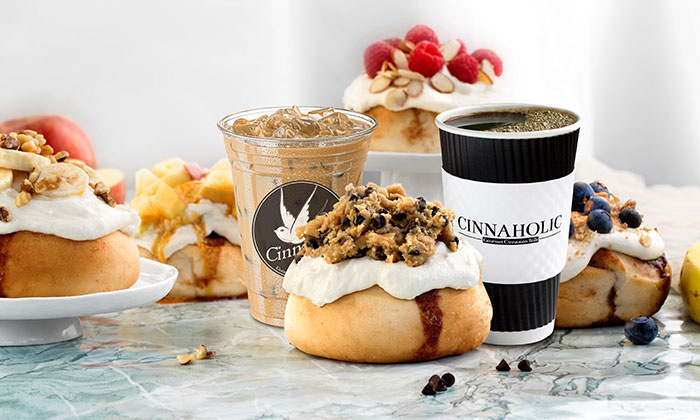 Atlanta — In the last 3 months, Cinnaholic, a bakery that serves innovative plant-based cinnamon roll creations, has set single day sales records across its franchise system, introduced a series of new technology-based innovations, and inked deals to add more than a handful of new locations in key U.S. markets.
"When the pandemic hit, we battened down the hatches and focused on two big priorities — making it as easy as possible for our new and longtime fans to enjoy Cinnaholic and supporting our franchisees with even more revenue-driving opportunities than they've had in the past," says Spencer Reid, president of Cinnaholic. "As a result, many of our franchisees have thrived during this unprecedented time. Plus, it just goes to show that our products truly resonate with customers and brand is here to stay."
The brand has opened six franchise locations since January in new markets including Charlotte, N.C.; San Antonio, Texas; Raleigh, N.C.; Gaithersburg, Md.; and two in the Chicago area, bringing its total location count to 40 units.
Plus, Cinnaholic projects a strong growth trajectory with newly signed agreements in Atlanta; Tampa, Fla.; Chicago; Dallas; Nashville, Tenn.; and Coral Springs, Fla. With 20 locations under construction and nine others anticipated to start buildouts this year, Cinnaholic is on track to reach 60 locations by the end of 2020.
The economic slowdown did not deter Cinnaholic franchisees from building new locations. Not one of the stores already in construction phases have halted plans, and all others set to start construction in 2020 are moving forward.
To preserve sales nationwide, Cinnaholic phased in a new, technology-advanced online pickup and third-party delivery ordering platform. The impact of the refreshed online ordering system was felt immediately with average ticket sales increasing by 30% for pickups and 40% for delivery.
"When we were ordered to close, I was worried that my sales would drastically decrease. But, with the new online ordering system and third-party delivery relationships, our orders have not stopped," says Shanntel Hobbensiefken, owner of Cinnaholic in Gilbert, Ariz. "With our easy, no-contact curbside pickup, serving customers has been seamless."
Founded in 2009 in Berkeley, Calif., Cinnaholic is the only gourmet bakery whose cinnamon roll is 100% vegan and free of dairy, lactose, eggs or cholesterol. For more information, visit www.cinnaholic.com.
SOURCE: Cinnaholic
classic-editor-remember:

classic-editor

abkw-text:
Tagged under