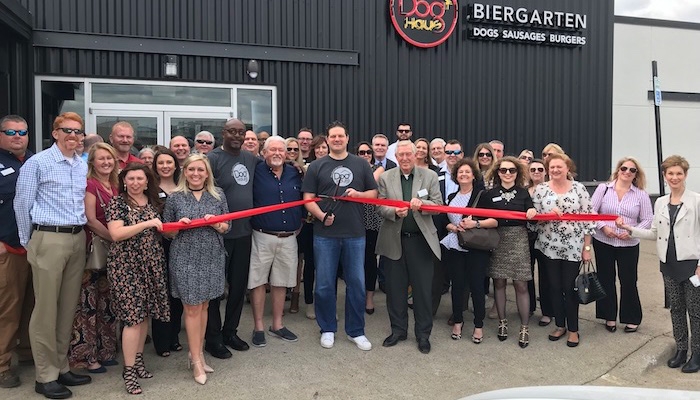 Nashville, Tenn. — On February 17, 2018, Dog Haus Biergarten opened its first Tennessee location, on Broad Street in Murfreesboro. The California-based concept is renowned for its gourmet hot dogs, sausages, burgers and one-of-a-kind creations — made using all-natural vegetarian-fed pork, chicken and beef raised without antibiotics or hormones.
"Bringing the Dog Haus brand to Tennessee has been a dream of mine for quite some time, so I can't wait to open our doors and start serving the amazing people of Murfreesboro on Saturday," says franchisee Larry Lavigne. "Our food will be our focus, but to accompany our one-of-a-kind creations, we'll have eight HD-TV screens streaming sports and customized entertainment such as music videos and funny viral clips, as well as a gorgeous Biergarten where our guests can enjoy their favorite local craft beers, wine and cocktails in a relaxed setting."
The fast-casual concept, designed to elevate the hot dog and burger-eating experience, serves up its quality meals within the contemporary aesthetic of a modern industrial space. After ordering at the counter, diners can grab a barstool at the communal tables, take a bench seat at one of the reclaimed wood and steel tables or step outside to the welcoming patio.
The first Dog Haus opened in Pasadena, Calif., in 2010. Dog Haus Biergarten currently has 30 locations open in eight states with confirmed expansion of more than 450 franchise locations in Alabama, Arizona, California, Colorado, Florida, Illinois, Kentucky, Louisiana, Maryland, Michigan Nevada, New York, Ohio, Pennsylvania, Texas, Tennessee, Utah and Wyoming. For more information, visit www.doghaus.com.
SOURCE: Dog Haus Biergarten
Tagged under