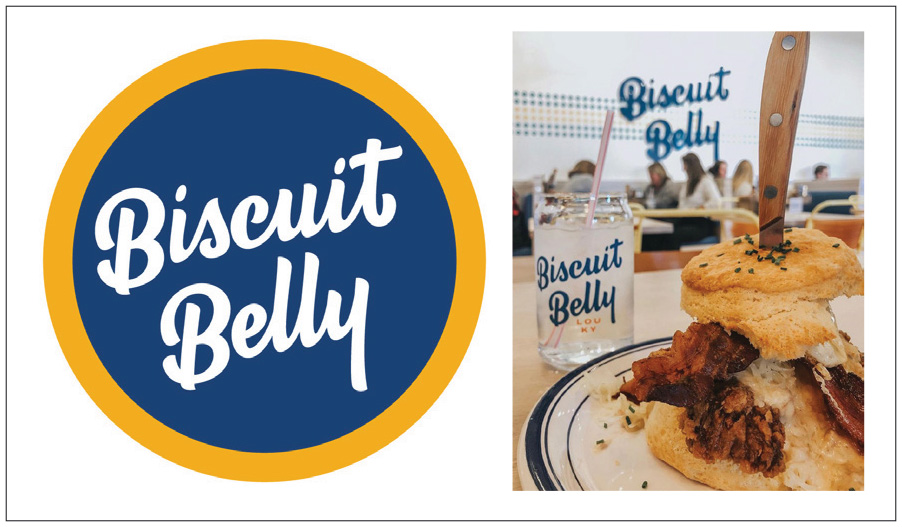 Louisville, Ky. — Biscuit Belly, a chef-driven fast-casual breakfast and brunch concept specializing in gourmet biscuit sandwiches, has signed its first and second multi-unit development agreements to franchise 10 locations throughout Lexington, Ky.; Knoxville, Tenn.; Huntsville, Ala.; and Birmingham, Ala. This marks the first development deals since the brand launched its franchising efforts at the end of 2020 and supports Biscuit Belly's plans to grow to 20-25 locations by the end of 2021.
Seasoned multi-unit franchisees Jay and Kelly Shoffner and their family will own and operate six new Biscuit Belly locations throughout Lexington and Knoxville. Jay is a second-generation KFC franchisee and today operates 34 KFC locations and 10 Long John Silver's stores throughout Southern Indiana, Kentucky and East Tennessee. Daughters Mallory and Madison will head up the operations for the six stores in Lexington and Knoxville. The first Lexington location will open in mid-September with two additional local restaurants opening in winter 2022. Three Knoxville locations are slated to open in fall 2022 and winter 2023.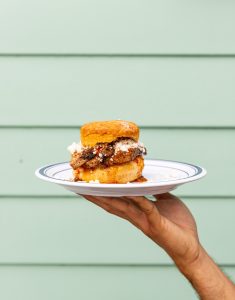 "My daughters are based in Louisville and they raved about the Biscuit Belly concept, so when I heard the news that the brand was now franchising, we jumped at the chance to partner with one of the most craveable fast-casual concepts on the market," says Jay Shoffner, owner and vice president of JRS Restaurant Corporation and Corbin Restaurants Inc. "We look forward to bringing our experience with owning and operating mature restaurant franchises to the emerging Biscuit Belly concept and opening our first location in summer 2021."
Owners of the four new Biscuit Belly franchise locations in Birmingham and Huntsville is Power Brands Hospitality Group (PBHG). The family-owned restaurant group started operating franchises in 1991 and has now grown to more than 30 restaurants, spas and hotel investments spread throughout the Southeast. Today, the group owns and operates multiple brands, including Five Guys, Nothing Bundt Cakes, Super Chix, Grimaldi's, Urban Cookhouse and many more. The group signed an agreement with Biscuit Belly to open two Huntsville metro area locations and two Birmingham metro area locations. Huntsville stores will be operated by PBHG partners Wendy Coates, Gira Zaveri and Rootul Zaveri. Birmingham stores will be operated by Andrew Adams, Rachel Adams, Zeel Zaveri and Arnold Soni.
Chad and Lauren Coulter alongside partners Chuck Schnatter and Chef Tavis Rockwell founded Biscuit Belly in 2019 and currently operate three locations throughout Louisville, Kentucky with plans for 10 corporate locations by the end of 2022. The design of each location reflects the brand's upbeat and bright atmosphere which is inspired by their southern roots. For more information on franchise opportunities, email Lauren.Coulter@biscuitbelly.com or visit www.biscuitbellyfranchise.com.
SOURCE: Biscuit Belly
classic-editor-remember:

classic-editor

abkw-text: