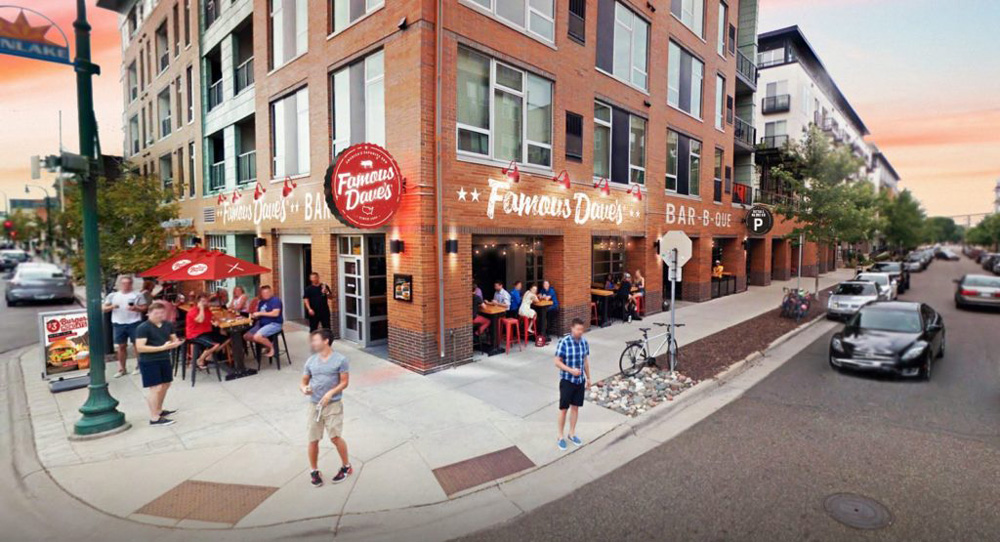 Minnetonka, Minn. — Famous Dave's opened the first of its smaller footprint prototype restaurants in Uptown Minneapolis on December 20, 2019. The new restaurant is approximately 3,000 square feet — compared to the average 6,500 to 7,000 square feet — and features a bar-centric environment and compact dining area.
Famous Dave's parent holding company, BBQ Holdings, Inc. which recently opened its Clark Crew BBQ restaurant concept with its partner Clark Championship Products LLC, is looking to open five to 10 of these smaller footprint restaurants by the end of 2020. The brand is also looking to implement a drive-thru to continue the convenience factor at their existing stores. In addition to expanding the concept in the Minneapolis market, Famous Dave's is also looking at opening in Atlanta, New York, New Jersey, the Carolinas, Illinois and Wisconsin.
The new Minneapolis restaurant will also feature technological innovations such as tabletop ordering and digital kiosks in an effort to appeal to a younger demographic. The location will focus heavily on its off-premise delivery and catering business, which was previously a large aspect of the brand's former Uptown location. The executive team has focused on curating a different and exciting experience for its guests within the space by introducing activities such as trivia, game nights and karaoke, while continuing to implement the same core values that Famous Dave's has held for 25 years.
"We're excited to explore this new concept, which allows our brand to operate from a smaller space with a bar-centric atmosphere, resulting in a comfortable and fun local hangout," says Jeff Crivello, CEO of BBQ Holdings, Inc. "Our team is looking forward to this initiative in which will capture efficiencies in occupancy costs, labor and an abbreviated menu of our legendary, core BBQ."
Famous Dave's of America, Inc. is a wholly-owned subsidiary of BBQ Holdings, Inc. Famous Dave's was founded by 'Famous Dave' Anderson, whose passion for BBQ led him on a 25-year cross-country trek to find the best regional BBQ recipes in the country before opening the first Famous Dave's in Hayward, Wis. As of August 12, 2019, Famous Dave's has 134 locations in 33 states and three countries including 33 company-owned and 101 franchise-operated restaurants.
SOURCE: Famous Dave's
classic-editor-remember:

classic-editor

abkw-text:
Tagged under