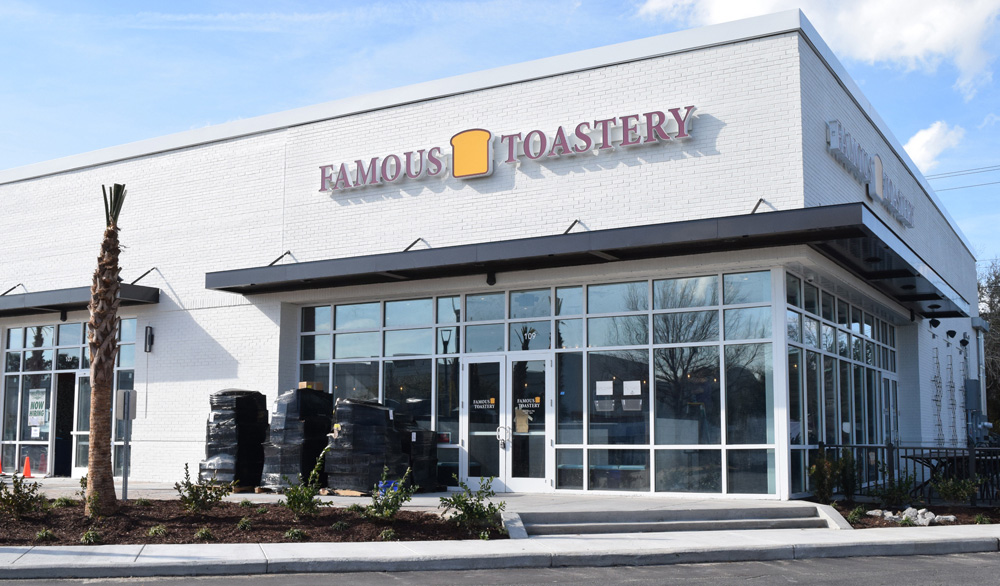 Charlotte, N.C. — Famous Toastery has been one of the fastest growing better-breakfast chains in the U.S. As an early pioneer of the breakfast-and-lunch-only sector, Famous Toastery has made a name for itself by offering all-day breakfast long before the quick-service giants had discovered the sales potential.
After starting a franchise program in 2013, the North Carolina-based concept jumped from three to more than 25 stores in just 5 years.
"Now, we are accelerating our franchise development efforts again, with the goal of doubling in size over the next 2 and a half years," says Robert Maynard, co-founder.
Since this acceleration happens to correspond with the COVID-19 pandemic, Maynard says the 26-unit Famous Toastery has had to make some major adjustments to operations. Some of the adjustments included paper menus (and eventually QR codes), contactless payment and limited menu items. The most important advancement was the launch of an online ordering platform, which was rolled out in 4 days.
"We have been implementing new technology so that we can meet our guests where they are comfortable," says Maynard. "Regardless of whether they want a paper menu or a digital menu, or whether they want to pay up front or on their phone — we are creating solutions that benefit all of our customers."
Regarding the success of the brand's franchisees, Maynard says operators are doing well as they wait for things to return to normal. Famous Toastery has worked hard to assist established franchise owners during the pandemic, including royalty forgiveness and access to funds from the Paycheck Protection Program.
Looking ahead, Famous Toastery appears to be well-positioned for the future and has already received a lot of interest from franchise prospects. Two restaurants opened in August and another one is scheduled to open before the end of 2020.
Charlotte, N.C. based Famous Toastery began in 2005 in a small house-turned-restaurant where best friends Brian Burchill and Robert Maynard opened their first breakfast spot. Famous Toastery evolved into a franchise system in 2013 and now has over 25 locations. For more information, visit www.famoustoastery.com.
SOURCE: Famous Toastery
classic-editor-remember:

classic-editor

abkw-text:
Tagged under