— By Katie Lee —
Pasadena, California-based Dog Haus is entering new markets through franchising and partnerships with Kitchen United and Live Nation.
Dog Haus is an emerging new restaurant concept that, frankly, isn't that new. But it is new to much of the country. Next year, the Pasadena, California-based eatery will mark its 10th anniversary as a creatively crafted hotdog joint that also offers burgers, sausages and brews. While many of its 30+ brick-and-mortar locations are 2,500-square-foot Biergartens with 24 beers on tap, a large sit-up bar, expansive outdoor patios and TVs, most are more traditional 1,400-square-foot counter-service, fast-casual locations, primarily located in California, Colorado, Texas and Arizona. To expand in new markets, in 2019 Dog Haus teamed up with Kitchen United, the off-premise "virtual" restaurant space shared by multiple concepts at a time, and Live Nation, a concert venue operator and events promoter in the world of sports and entertainment. Namely through Live Nation and Kitchen United, Dog Haus plans to break into big markets and the big time.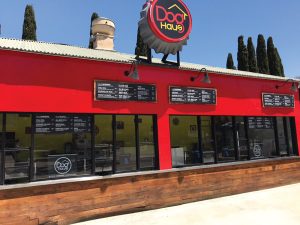 Dog Haus currently has more than 30 brick-and-mortar locations; a Kitchen United location in Chicago; and 15 Live Nation locations, including concert arenas from California to Massachusetts. In 2020, Dog Haus hopes to open 15 additional Kitchen United locations, approximately 10 more Live Nation locations, and 20 traditional locations. The company is also exploring non-traditional avenues for expansion, such as college campuses and airports. Currently, Dog Haus has three or four locations that are in college towns, but not technically on-campus. An example is a Dog Haus that borders student apartments one block away from fraternity row at the University of Southern California in Los Angeles.
The formation of Dog Haus, whose founding partners include Hagop Giragossian, Quasim Riaz and André Vener — seemed like destiny from the start. Two decades ago, Vener oversaw food vendors for the California Philharmonic, working with a gourmet coffee truck called Boar's Java, owned by Giragossian and Riaz. Years later, Vener opened a high-end steakhouse/jazz bar in Pasadena, not 100 yards from one of Giragossian and Riaz's operations. When the recession hit, the German-born Vener toyed with the idea of opening a hotdog food truck and sought advice from Giragossian and Riaz, who convinced him "why a food truck was a bad idea unless you planned to live in it." But as fate would have it, Giragossian and Riaz had just signed a lease to launch their own brick-and-mortar hotdog concept, to be located on a Pasadena street near to where Vener lived. Vener looked at his fancy steakhouse with 300 bottles of wine and $75 steaks — during a recession — and decided to cast his lot in with more affordable fare. He asked Giragossian and Riaz if they had room for a third partner, and thus Dog Haus was born.
"The '08-'09 economy tanked, and we had to react to it," recalls Vener. "Instead of selling $75 steaks, we sell $5 dogs. It worked out."
"Worked out" is an understatement. Today, Vener oversees marketing and finance; Giragossian heads up operations and the culinary side of the business; and Riaz handles real estate and construction. With these three at the helm, Dog Haus took off from the start. The first location opened in October 2010 in Pasadena, followed less than a year later by the concept's first Biergarten. Six months after that, Dog Haus opened its third location in Alhambra, California.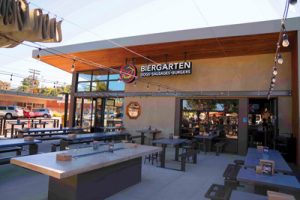 "We had three stores open in the first 18 months, and at that point we decided to go down the franchise path," Vener says. "We figured since we were a niche market and were trending, maybe we'd grow a lot faster if we franchised it."
Dog Haus started franchising in 2013; today it has 35 franchisees in its system. At present, Dog Haus runs just two corporate locations, in Los Angeles and Murfreesboro, Tennessee. For its Kitchen United stores, Dog Haus plans a 50:50 franchise-to-corporate ratio. For example, if Dog Haus is going into Austin, Texas, or Chicago or a market where it already has a franchisee, that franchisee will get first rights to run the Kitchen United location, since it will be in the franchisee's territory and help with overflow at the franchisee's current location. But if Dog Haus enters a new market where there is currently no franchisee, the plan is to run it as a corporate store, at least at first. This will be the game plan when Dog Haus opens in Kitchen Uniteds in San Francisco and New York City during first quarter 2020.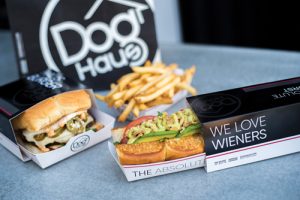 "Once it's up and running and doing well, then we'll look for a multi-unit operator franchisee to develop that territory," says Vener. "That's what's great about Kitchen United: you can go into cities like that where rent and labor are crazy, but this gives us a chance. There's no way that we'd feel, right now, that we should be signing some 10-year lease in San Francisco or New York to open up a hotdog stand. It's kind of crazy. So [Kitchen United] is going to be a great way that allows us to get into these markets."
As for regular Dog Haus locations, the company plans to expand in major markets such as Colorado, California and Texas, specifically in San Antonio, Houston, Austin and Dallas. "I wouldn't be surprised if, in just those four cities, we open at least 10 locations," he says.
One unique aspect helping Vener and his partners grow and scale Dog Haus is their joint ownership of Pyramid Powder Coating, a custom fabrication/coatings company that has been in Riaz's family for 30 years and is now run by Riaz, Vener and Giragossian. Through Pyramid Powder, Dog Haus hand-crafts and fabricates all the furniture and fixtures in-house.
"Every single table, chair, bar, frames — everything you see is designed by Dog Haus and fabricated by our sister company," Vener says. "So it's not some cookie-cutter fixture an employee can order out of a catalog.
Creating its own furniture and fixtures allows Dog Haus to adjust to many different restaurant shapes, based on the unique shapes of the buildings it goes into. Explains Vener: "Normally you might have X number of 4-tops and 2-tops. If you measure it out and can't fit something in, we can customize the tables by 6 inches or 4 inches or whatever it takes to make it all fit perfectly and maximize the space. That way we can be more efficient and get as many people as we can in a smaller footprint."
To maximize space in the back-of-house, Vener says he and his partners spend a lot of time experimenting with equipment locations, maximizing space. One of Dog Haus's most valuable equipment pieces is its CVap Drawer, a hotdog steamer that steams dogs or sausages to a certain temp and holds that temperature perfectly. Then, when it's ordered, the hotdog or sausage is placed on the grill to be seared off. "That way we're not spending 7 minutes cooking — we do it in more like 2 minutes," Vener says.
One of Dog Haus's equipment vendors, AccuTemp, recently won an award for equipment invention it created with Giragossian called the FlexPro Burger Smasher, which uses a long-armed smasher over top the griddle to come down on top of burgers and "smash" the patties just right. "That helped save time for the grill guy because he can throw down four to eight patties at once and smash them and get the perfect sear, versus manually smashing each one," Vener says.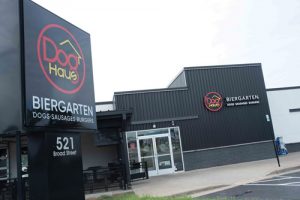 The right equipment can save time or space — or both. Such is the case with Dog Haus's cheese melter, which has been placed above the grill. This positioning makes the space more compact and efficient, and it saves time. "We can do three things at once in a small space," Vener says. "While the CVap Drawer is on the side, we keep the cheese melter above the griddle with the AccuTemp smasher."
When it comes to maintaining equipment inside a Kitchen United location, Dog Haus doesn't have to worry. "That's another great perk — the equipment is waiting for you when you sign the lease and then they maintain it," Vener says. "We don't deal with anything. Construction and real estate, too — all the hard, heavy lifting is done by them."
For its 30+ brick-and-mortar stores, Dog Haus has a list of recommended vendors to use for service maintenance, but there is no formal contract. Individual franchisees make the call.
In 5 years, Vener says, he sees Dog Haus cracking the top 200 big brands in terms of name recognition. "We've got our name out there, but I see us in 5 years being known. People will hear Dog Haus and know it's the gold standard for hotdogs and sausages. We don't have that recognition yet, definitely not in states we're not even in. But in 5 years, I see us probably being at 300+ locations and being somebody who's known in the industry."
And Dog Haus intends to keep expanding its partnership with Kitchen United and Live Nation to get there. As Vener puts it, Kitchen United is having a pretty busy year in its own right — "We're just joining the party."
SIDEBAR:
SPIRIT OF GIVING BACK
Dog Haus recently established a Chef  Collaboration Series to benefit No Kid Hungry, a national campaign dedicated to ending childhood hunger in the U.S.
For its Chef Collaboration Series, five talented chefs work with Dog Haus to develop limited-time menu items — from which $1 of each sale is donated to No Kid Hungry.
New this year, Dog Haus added a cocktail component to its benefit program. Starting last month, Dog Haus guests can now sip craft cocktails created by celebrity mixologists, led by Phil Wills from the TV show "Bar Rescue."
"While the focus of our charitable efforts remains on supporting children in need, we thought it would be a great idea to add incredible cocktails into the mix," says Dog Haus Partner André Vener.
In September, the celebrity chef is Eric Greenspan, owner of Alt/Grub/Faction and winner of "Iron Chef America."
— This article originally appeared as the cover story of the September 2019 issue of Retail & Restaurant Facility Business magazine. Email the editor, Katie Lee, at [email protected].
classic-editor-remember:

classic-editor

abkw-text: