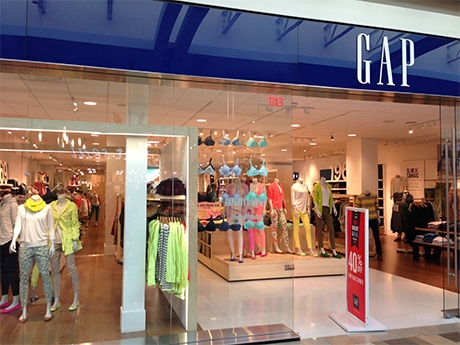 San Francisco — Gap Inc. will close approximately 230 Gap specialty stores within the next 2 years, the San Francisco-based apparel chain announced in its fourth-quarter and 2018 fiscal year reports, released on February 28, 2019. Gap Inc. also revealed plans to spin off Old Navy, a brand it established in 1994, into a separate publicly traded entity, as well as to rebrand itself under a yet-to-be-determined name.
In explaining their reasoning behind the split, company leaders cited a growing divergence between the customer bases, operating strategies and value-creation mechanisms of Gap and Old Navy, with the latter outperforming the former. According to The Wall Street Journal, Old Navy accounted for nearly half of Gap Inc.'s total 2018 sales of $16.6 billion.
The new company will carry Gap-brand apparel in addition to clothing lines from sister brands like Athleta and Banana Republic. The two companies will trade under different ticker symbols and have separate management and leadership structures, as well as distinct financial profiles, company executives said.
The company estimates that the closures of the 230 stores — roughly 20% of its total global store count — will result in approximately $625 million in annualized sales losses. Additionally, the company estimates pre-tax costs associated with these actions to be about $250 million to $300 million, with the majority expected to be cash expenditures. The company estimates that these actions will result in annualized pretax savings of about $90 million.
Gap executives also noted that among its specialty stores, about 40% of sales stemmed from the company's online platform. As of February 2019, Gap North America operated 758 stores totaling approximately 7.8 million square feet. The majority of the affected stores are expected to shutter by the fourth quarter.
Although Gap's gross profit for fiscal year 2018 rose by 4% from 2017 to $6.32 billion, its fourth-quarter gross profit was $1.65 billion, down 6Z% from the same period in 2017. Net sales for the 2018 fourth quarter — the key period for retailers via the holiday season — decreased by 7% relative to a year ago.
"We have made significant progress executing on our balanced growth strategy and investing in the capabilities to position our brands for growth," says Art Peck, president and CEO of Gap Inc., who will hold the same position with the new company.
"Today's spin-off announcement enables us to embed those capabilities within two stand-alone companies, each with a sharpened strategic focus and tailored operating structure," he added.
Gap's stock price closed at $25.40 per share on Thursday, Feb. 28, down from $31.70 per share a year ago. The stock opened at $30 per share on March 1, suggesting that investors approve of the split.
— Taylor Williams
Tagged under