With almost seven decades of unique, American-made drinkware to its name, today Tervis is ramping up store expansion in tourist hot spots across the U.S.
Interview By Katie Lee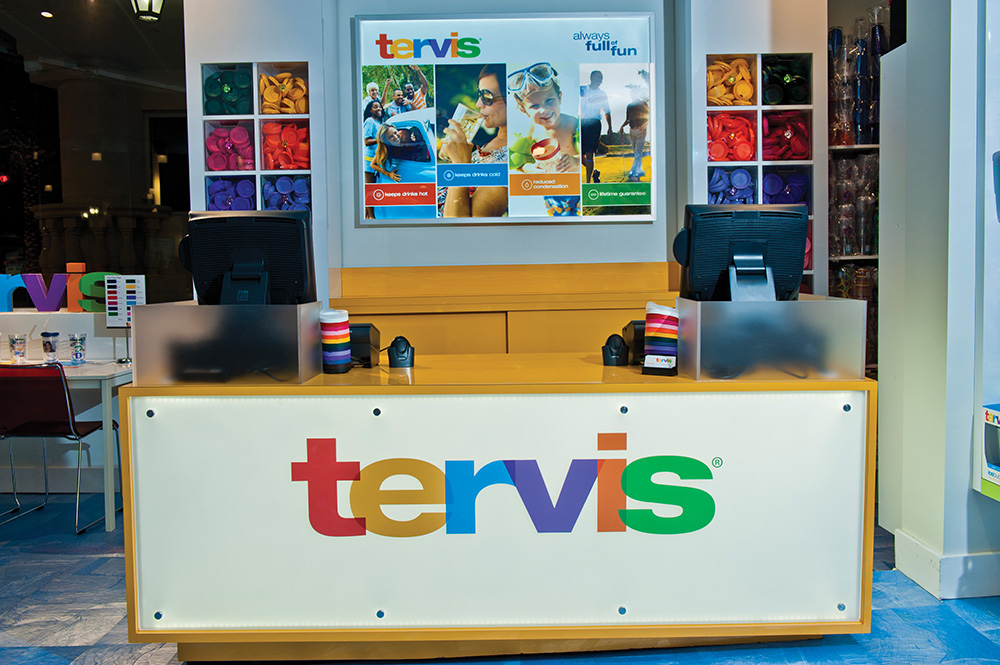 Chances are, you've heard of — and even enjoyed a cold or hot beverage in — a Tervis Tumbler. What you might not know is that Tervis, famous for its innovative, American-made drinkware for almost 70 years, now has 33 brick-and-mortar stores throughout the country, mostly in tourist hot spots along the coast. As the company preps for even greater growth, its facilities and construction team has begun streamlining its processes for maximum efficiency.
For the cover of our June/July 2014 issue, Retail Facility Business interviewed Lynn Kisser, vice president of stores for North Venice, Florida-based Tervis, about the company's plans for growth in 2014 and beyond.
RFB: How many stores does Tervis currently operate?
Lynn Kisser: "Tervis opened our 33rd store on June 24th. We now have company stores in 13 states."
RFB: Fifteen new stores were planned for 2014 — is that number still on track? How does 2015 expansion look?
Kisser: "Tervis has opened eight stores since January. We plan to open a few more this year. We will continue to open more stores in 2015 when the right locations become available."
RFB: When and where did the first Tervis store open?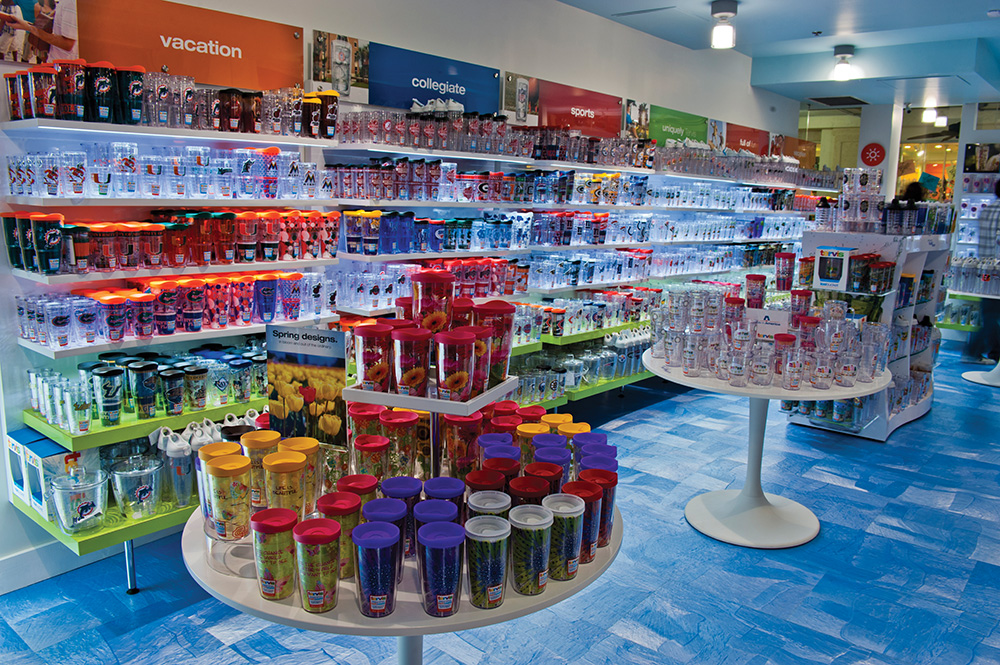 Kisser: "Tervis was invented in 1946 in Detroit. It was brought to Osprey, Florida, in the late 1950s. Originally the building housed the manufacturing facility and a retail store. It was a gift shop selling many items, including Tervis. Sometime in the late 1990s, it became a dedicated Tervis store. This original factory location is our heritage store and is one of our most successful locations. It is a destination for tourists and locals."
RFB: What made the company, which had been a product manufacturer since the 1940s, decide to open brick-and-mortar stores?
Kisser: "Having brick-and-mortar stores gives Tervis the opportunity to know and understand our customers. Our employees can interact directly with our customers, educate them on the features and benefits and help them select the product that's best for their needs."
RFB: What types of markets are targeting for future development? Coastal cities?
Kisser: "We are focused on the tourist market that has potential for high foot traffic.
RFB: Are your stores primarily mall-based? Lifestyle centers? Any freestanding locations?
Kisser: "We are unique as we will go into any of those formats as long as there are tourists and visibility."
RFB: What is your typical store protoype like?
Kisser: "Our typical store is 850 to 1,250 square feet. We like when we are surrounded by other family-friendly gift shops and restaurants."
RFB: What are your biggest operational and/or maintenance related challenges?
Kisser: "HVAC issues are the most challenging because we are often in very temperate climates. We like to keep the doors open, so cool air is key. If the A/C goes out in Key West or Charleston, it is not fun."
RFB: Describe how your maintenance department is organized. Do you handle maintenance in-house or outsource to third-party service providers?
Kisser: "Chad Blankenship is our director of construction and facilities for Tervis stores. He joined us last year and handles many of these issues but obviously he can't be everywhere at once so he does rely on third-party service providers."
RFB: How do you anticipate the repair and maintenance model will change and evolve as more stores are added?
Kisser: "Chad is working on streamlining a process for efficiency. One day we would like to have everything consolidated. A process has started because we know it is crucial to a successful expansion."
RFB: How do you handle a typical maintenance call today?
Kisser: "The store reaches out to Chad and reports the issue. Depending on the severity of the issue, he will arrange for service."
RFB: How do you handle an emergency call?
Kisser: "As all retailers know, we are available 24 hours a day, 7 days a week. Thank goodness for cellphones and a solid network of people we can rely on when we are in need!"
RFB: Do you rely primarily on national vendors? Or a mixture of national and regional/local service providers?
Kisser: "We rely on a mixture. We prefer to deal with the local people. We like to immerse ourselves in the communities where the stores are located and we use many local providers. We do use a few select national providers with large networks throughout the country."
RFB: By what criteria do you choose your R&M vendors?
Kisser: "Reputation is important as well as longevity and their client base."
RFB: Does your company have any "green" initiatives in place or in the works? Such as how it maintains its stores, LED lighting or other energy-related upgrades, sustainable materials used in construction, etc.
Kisser: "We made LED a big part of our store rollout. We continue to look for more ways to be green. After all, Tervis is a green product."
RFB: What do you think is unique about maintaining your facilities compared to other more traditional retailers?
Kisser: "We keep our stores clean and bright without a lot of clutter in order to create an inviting experience."
RFB: What do you enjoy most about your job on a daily basis?
Kisser: "The variety of everything I do gives me great joy. From searching for that next great location, meeting with our 200+ store team members, seeing thousands of customers enjoy the Tervis experience, shaping the look and feel of the stores, and, of course, having a quality American-made product to showcase."
RFB: What are some of your future goals you've set for your team or your stores?
Kisser: "As we grow and expand, it is important to keep the amazing culture that has been created. We want to offer growth for our employees to learn and develop new skill sets. And of course, continue to grow the Tervis brand and delight our customers.
EDITOR'S NOTE: This article originally appeared on the cover of the June/July 2014 issue of Retail Facility Business magazine.