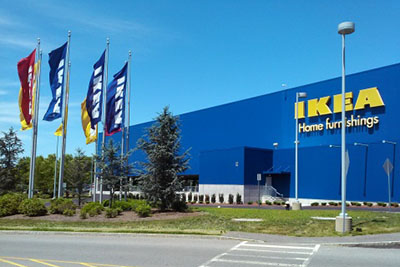 Stoughton, Mass. — Construction began in September 2013, and the store remained open and operational throughout the build-up process.

Stoughton, Mass. — IKEA has completed the expansion of its Boston-area store in Stoughton, Mass. As a result, IKEA Stoughton, which opened November 2005 as a 357,000-square-foot store, now has grown 58,575 square feet to the new size of 415,575 square feet. Construction began in September 2013, and the store remained open and operational — with the full product assortment — throughout the build-up process.
"IKEA is thrilled with the success of IKEA Stoughton since its opening nearly 10 years ago," says Anton van Dongen, store manager. "This expansion will help us improve the shopping experience, and more easily meet the needs of customers throughout Northern New England."
In total, the project included expanding the Self-Serve Furniture Area (where shoppers collect flat-packed furniture to take home on the same day), rearranging customer service functions to the newly built part of the store and enlarging the home delivery area. This extension blends into the existing structure, maintaining the store's unique architectural design for which IKEA is known worldwide.
With a now larger roof, IKEA also is increasing the size of the solar array installed atop the building more than 1 year ago. The 51,516-square-foot solar addition — to be completed this fall — will consist of a 312-kW system, built with 1,248 panels, and will produce 383,200 kWh more of electricity annually for the store. Including the existing system, IKEA Stoughton's total 902.8-kW solar installation of 5,468 panels will generate 1,078,200 kWh of clean electricity yearly.
Located on 27 acres along Route 24 near Central Street (Exit 19B), the 357,000-square-foot IKEA Stoughton opened in November 2005. IKEA Stoughton was awarded LEED certification by the U.S. Green Building Council and hosts a green roof atop the store adjacent to the current solar panel array.
For more information, visit IKEA-USA.com.
SOURCE: IKEA