— Interview with Don Oakes —
Built into every Sea Bags product are style, substance and sustainability — and now these unique, handmade bags from Maine are showcased in 50 U.S. stores and counting.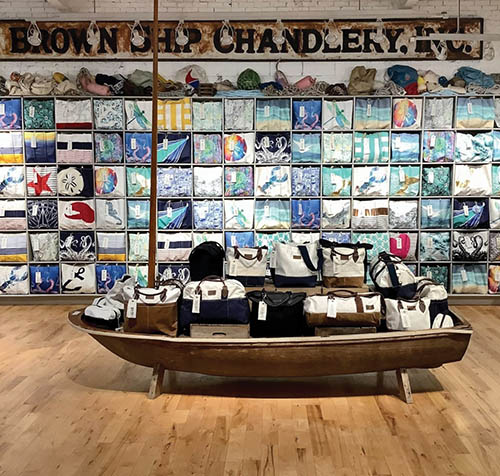 Within the last 4 years, Sea Bags, the designer and manufacturer of stylish and durable bags, totes and accessories handmade from recycled sails, has opened 26 new stores, increased its employee count to 300 — all while keeping up with demand. In order to accommodate the sales demand, the brand expanded its manufacturing space from 10,000 to 30,000 square feet. Adding a new flagship store in its home state of Maine in 2021, the brand quickly pivoted at the start of the pandemic and those decisions continue to pay off. This year, Sea Bags marked its 50th retail store milestone. The brand continues to expand its retail footprint by entering new markets, growing its sail acquisition team, while keeping to the core ideals the business was developed from: being handmade in Maine; being green in both product and practice; and giving back to its local communities.
R&R: You are based in Portland, Maine, and you actually manufacture products right there in your Portland headquarters? How many physical stores does Sea Bags operate today?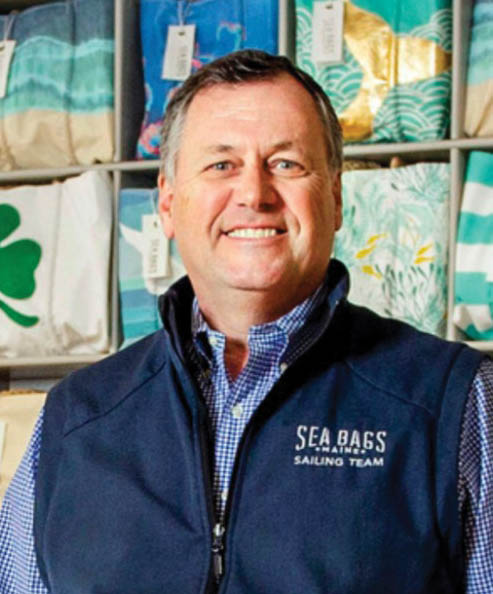 Don Oakes: "Our bags are designed on the working waterfront and all products are manufactured here on the coast of Maine. With the growth of the company, we have expanded manufacturing to both sides of the bridge in Portland, Maine. To date, Sea Bags has 50 retail stores across the U.S."
R&R: Tell me a little about the company's history.
Oakes: "Sea Bags started as a local business selling bags right here on Portland's Custom House Wharf in 1999. Sea Bags was incorporated in 2006, which is also when the brand started selling via e-commerce and to a few gift shops wholesale. In 2008, Sea Bags opened its second retail store. The three channels continue today with a focus on selling directly to the consumer through our stores and website."
R&R: How does Sea Bags manage organic, smart growth while also remaining true to its core pillars?
Oakes: "Sea Bags is able to manage its "organic, smart growth" because of its core pillars.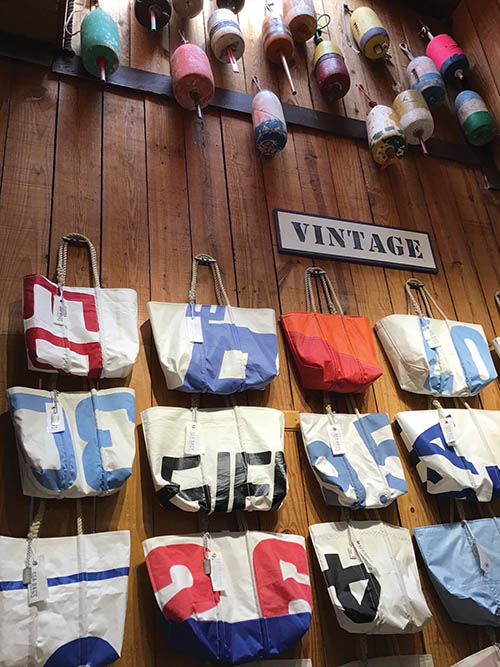 "Investing our resources around these cornerstones of the business is how we scale, for example; we expanded facilities and equipment in Maine; we continue to source and buy our raw materials locally and only in the U.S.; we have expanded our workforce; and we have grown our Sail Acquisition team to bring in more than 10,000 sails a year.
R&R: You guys recently raised money to support the restoration efforts from the wildfires in Maui. Do you also work with hurricane relief, etc.? What are some of your past examples of giving back to your community?
Oakes: "Giving back to our communities has been a guiding focus since inception, and we strive to make a meaningful impact by working with like-minded organizations with proven longevity.
"We're proud to work with the Maine Cancer Foundation, Maine Coast Fishermen's Association, Indigo Arts Alliance, Sea Turtle Conservancy, American Heart Association and Hawai'i Community Foundation.
"In 2022 alone, we worked with more than 60 organizations.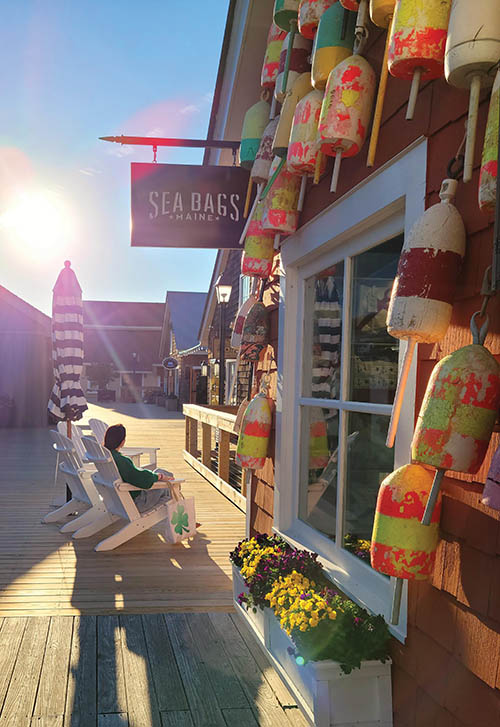 "So far, we have raised more than $16,000 for the Maui Strong Fund. Managed by the Hawai'i Community Foundation, the fund is overseen and distributed by local Hawaiians to best allocate financial resources to aid rapid response and recovery from the devastating wildfires. Our customers respond well to our impact initiatives, and the Maui Strong initiative continues to resonate."
R&R: To today's consumers, a company that is considered "green" is very important. But not so many really and truly walk the walk as much as Sea Bags does — sustainability and recycling are crucial to your brand.
Oakes: "The company was founded on sustainability not only as a guiding principle but also as a way of life along our working waterfront origins. This principle of sustainability takes on many meanings for Sea Bags: it includes centering local manufacturing and sourcing only in the USA. It also means we strive to keep our oceans clean and be good stewards for the planet. Sustainability is also about continuous improvement: there is always opportunity to do better for our people, our earth and oceans. Whether it's taking in more sails, or working with the sailing industry to make changes on the industry as a whole, or working with our employees on missions that are important and valuable to them, we are always looking for ways to be better and do better.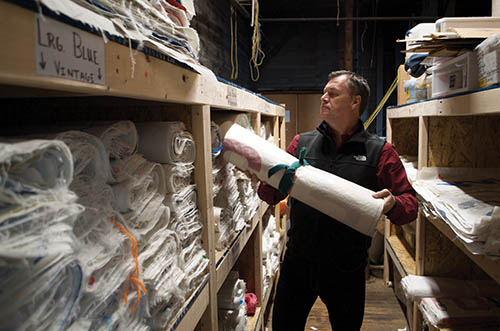 "There are certainly more economical ways to manufacture, but purpose-driven impact is what we founded the company on, and it's why we have the wonderful employees that we do."
R&R: Since 1999, Sea Bags has saved over 1.5 million pounds of material from going into landfills. How do you choose the materials used to create bags, and what is that process like?
Oakes: "When we look at raw materials, we prioritize locally-made and recycled content.
"All recycled sail materials are valuable to us, and we find ways to repurpose them into usable products. Of course if there is a grommet or a tell-tale, we think those are the most unique. The sails themselves often designate the products we make with them.
"We find ways to use scrap for every product — to eliminate waste and improve yield — from large totes and bucket bags to our signature brand hang tags.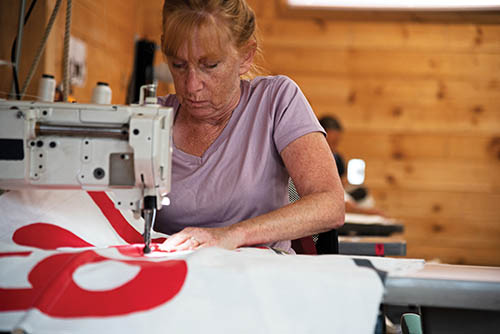 "Some great examples of how we choose materials are from our The Heritage Collection, which is handcrafted from pedigreed sails of historic schooners and sailing yachts. Each bag is limited in quantity and features unique trims and rare, upcycled sail cloth."
R&R: We know Sea Bags uses recycled materials to manufacture its merchandise, but as far as your facilities, do you have any "green" initiatives in place or in the works?
Oakes: "As of last year, 100% of the energy consumed in our facilities is renewable energy. The estimated renewable solar power energy we purchase is the equivalent of planting over 5,200 carbon sequestering trees.
"As for our retail merchandising strategy, in staying true to our mission, fitting out each store includes a thoughtful search for marine salvage and repurposed materials that bring the authentic feel of our home on Custom House Wharf to all of our retail locations. Reusing materials like buoys, boats, sails and fishing nets, for example, in each retail store is a primary design tactic, and we are always trying to push this concept further.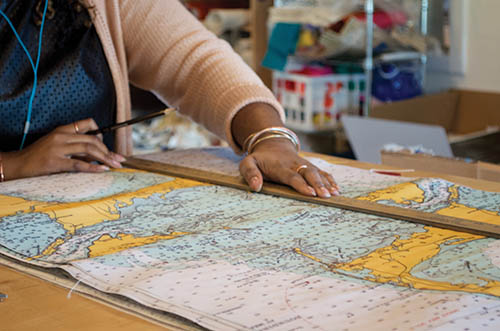 "In 2021, Sea Bags became Green Circle Certified for recycled content in its totes and bucket bags. We will continue to expand on this certification and others in the sustainability space as we continue to grow.
"While sustainability has always been at the heart of who Sea Bags is, we have long recognized that brands cannot simply use the words 'recycled' and 'sustainability' in their mission without substantiated proof. This third-party audit, verification and certification with GreenCircle is really important because it aligns with Sea Bags' values and guides us into the future as a company."
R&R: What is your preferred type of real estate?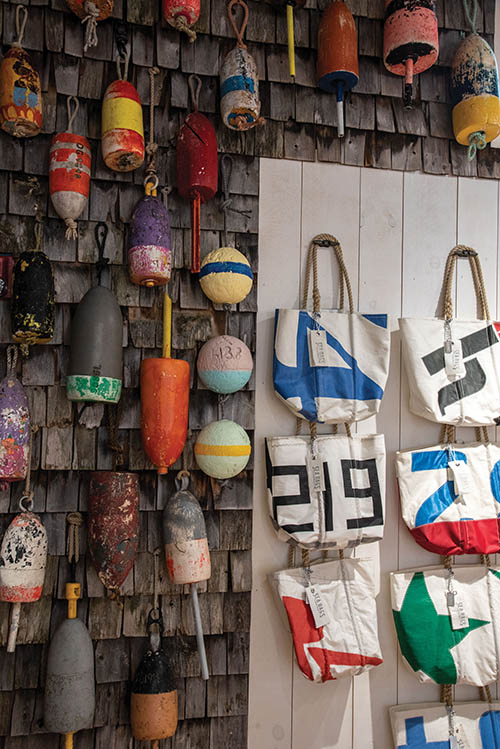 Oakes: "Our stores range in size from 300 square feet to 2,300 square feet, with the average running around 900 square feet. Our typical (or preferred) size is between 800 and 1,200 square feet. Almost all of our stores are freestanding and many in buildings that have "character." By that we mean they have been around for awhile and have some unique characteristics. We do not work from or towards a prototype, but rather look to highlight the features of each location."
R&R: Are you entering any new states? Do you have expansion plans outside the U.S.?
Oakes: "Currently we are in 15 states, including almost all states on the eastern seaboard (with Virginia and Georgia being the exceptions). All of our stores are in coastal towns, including the seven in Michigan on the Great Lakes (which is coastal, too). We don't have plans to expand our retail footprint outside the U.S. at this point; we see plenty of opportunities right here at home."
R&R: How did Sea Bags handle the height of the pandemic and store closures?
Oakes: "Closing 24 stores was definitely rough. We had planned to open eight stores in 2020 and had already set up four stores when the country shut down all retail. We took the closure of retail as an opportunity to secure leases in locations that we had not previously been able to make work financially or that did not have openings. For example, if not for COVID we would not have been able to open in Key West, Florida; Sarasota, Florida; Burlington, Vermont; Falmouth, Massachusetts; or our new flagship in Portland. In fact, not only did we open the eight stores as planned, we opened 13 stores in 2020, increasing our store count to 37 at the time."
R&R: How has the pandemic affected how people shop and where their priorities are now?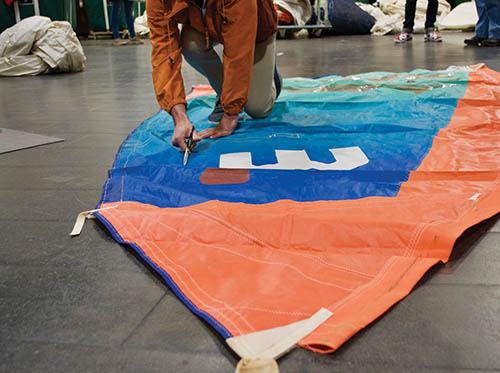 Oakes: "We all saw a major shift to online shopping during 2020 which simply accelerated the trend that had been ongoing for the past 20 years. However, despite some predictions, that did not create a permanent sea change in consumer behavior, as the growth in online abated after 2021. Physical retail still accounts for the vast majority of consumer shopping, and here at Sea Bags our stores account for twice the volume of our online business."
R&R: What are your operational/maintenance related challenges?
Oakes: "With 50 small stores that are typically not part of mall or center developments, we are always juggling dealing with typical issues like HVAC, plumbing, locks, etc. Our retail team is very adept at reaching out to local contractors to handle issues as they arise."
R&R: What do you think is unique about maintaining your facilities as compared to other retailers?
Oakes: "While we might have 50 stores, we do not operate as a typical chain but more like the owner/operators who are our neighbors in the towns we are located in. We try to inspire that "shopkeeper" mentality in our store managers who do a great job keeping us connected to the local community and other shop owners."
R&R: What do you enjoy most about your job on a daily basis?
Oakes: Without question it is the variety and fast pace. Never a dull moment and never the same day twice.
R&R: What are some of your future goals you've set for your team or your stores?
Oakes: "Our goals are to continue to improve and stay the course on our strategy of making and selling great products. We will do so by staying true to our values and core principles."
— This article originally appeared as the cover story of the October 2023 issue of Retail & Restaurant Facility Business magazine. Email the editor, Katie Lee, at [email protected].