Sandy Springs, Ga. — INKED Tacos and The Original Hot Chicken have opened a dual concept location in Sandy Springs, Ga., near Atlanta. Both INKED Tacos and The Original Hot Chicken are portfolio concepts of Atlanta-based Experiential Brands. The grand opening took place on June 29th.
"We are excited to expand our presence in Atlanta and play an important role in the daily lives of people who live, work and visit here," says a restaurant representative. "We strive to create memorable food experiences that will keep guests coming back for more."
At INKED Tacos, each menu item combines culturally relevant American foods with Mexican inspired dishes. The menu includes more traditional tacos as well as INKED originals, including the Family-Sized Nachos and Tattoo Blue Tacos.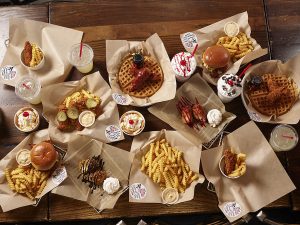 The Original Hot Chicken offers customers a variety of menu options, including its hot chicken sandwich, chicken and waffles, chicken tenders, Grandma's Banana Shake and the iconic fried twinkie with strawberry sauce.
For more information, visit https://inkedtacos.com and https://oghotchicken.com/.
Experiential Brands, a platform company of NRD Capital, franchises fast-casual restaurant brands designed to deliver a rapid return on invested capital for franchisees. Led by Aziz Hashim, the company has developed scalable brands including The Original Hot Chicken, INKED Tacos & Pinsa Roman Pizza. For more information, visit www.experiential-brands.com.
SOURCE: Experiential Brands