— By Patrick Lorimer —
Getting the retail market EV-charging ready.
Automakers are committed to bringing more affordable electric vehicles (EV) to market. GM alone expects to have 30 EV vehicles in their product line by 2025 and coupled with record high gas prices, EV sales are soaring. The federal government is helping states build out a national EV charging network with a goal of 500,000 chargers by 2030. Even the exponential numbers of EV charging stations won't be nearly enough to meet market demand.
Retailers have a unique opportunity to capitalize on the demand for EV charging. However, doing so requires an understanding of the consumer behaviors of EV drivers, as well as the engineering and technical challenges of EV charger installation.
EV Charging Adds to The Revenue Stream
EV chargers can boost revenue for retailers in three main ways:
Attracting/retaining foot traffic: Studies show that EV charging stations attract new customers and increase the time customers spend within a store or restaurant. Simply having your establishment on apps that identify charging station locations attracts EV owners looking for a place to charge. Fast charging stations can top off a typical EV in around 30 minutes — potentially 30 minutes of shopping time. Retailers can further increase traffic by connecting EV charging to their rewards programs for discounts on charging fees, or by offering to deliver online orders to customers' vehicles while they are charging.
Direct revenue from EV charging: The easiest way to maximize EV charger revenue is to bill customers for their use, especially in areas where chargers are in high demand. Retailers can charge customers a fee to connect to a charger and a markup on the electricity sold. Most retailers favor arrangements where a network operator installs, owns and maintains the stations and divides revenue with the retailer. This alleviates the burden on the retailer because they will not have to manage software updates and evolving technology. Retailers can also optimize their capacity by implementing a variable fee strategy for off-peak segments.
Ad revenue: Just like at gas stations, digital screens on the charging stations can display advertising for local and national businesses who pay station owners for the ads. Digital screens can also secure instant analytics, provide the option of self-service, maintain brand identity, share product information and upsell/cross-sell to increase sales of the retailer who owns the charging station. Costs for EV charging station advertising can vary greatly depending on location, ad type and length of the promotion.
Evaluating EV Charging Technologies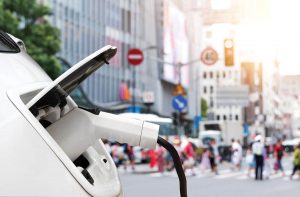 With so many emerging EV charging technologies in the marketplace, an energy feasibility review is an important step in planning for new development. Such a review may include an evaluation of charging technologies and electrical infrastructures; a comparison of EV software and hardware, network integration, installation requirements, payment schedule and maintenance; the research of county, state, federal and utility-level incentives and rebate programs; and electrical consumption and EV utility rate analysis for capital planning. It is prudent to coordinate with the selected EV charging vendor to provide utility load capacity analysis for the project. For those wishing to go green and save money in the long run, it's worth evaluating renewable energy and energy storage options as they can offset the higher electric utility charges associated with EV charging.
Since site conditions and requirements vary, trenching for plumbing, electrical wire and EV station installation will require different levels of engineering expertise. The permit approval process varies by location. If permitting is required for the new development, a site civil engineer could support site evaluation, design, permitting and construction. At times, a geotechnical design report may be needed for subgrade preparation, site improvements and other project requirements. The geotechnical engineer will research and coordinate exploration to obtain soil information for analysis and generate a report to be used by a civil engineer, structural engineer or architect for design. Underground utility location could be included in this scope. If there is a retrofit requirement for a parking lot, it's prudent to involve a structural engineer.
Considerations for New Charging Stations Co-located with Parking
EV charging stations have gone from a luxury to a necessity. Many would argue that meeting the current minimal requirements is short-sighted. Beyond the location of the charging stations, and electrical infrastructure, EV charging design should include ADA and accessibility compliance. Although there are no federal laws that regulate accessible EV charging station spaces, select state and local building codes have incorporated the requirement. This includes providing a specific number of accessible EV spaces that have requirements for size, ground surface and reach ranges. An accessibility consultant can review design documents for ADA compliance (as well as compliance to other applicable regulations). During the construction phase, an accessibility consultant can monitor construction to ensure the installation is performed to spec and compliance is achieved.
Other Technological Challenges
In addition to designing and building a physical structure of the station and its surroundings, there is also the process of selecting and implementing the technology platform that enables the charging station. Will the system rely on cellular or Wi-Fi connection? Some charging systems have problems toggling between 4G and 5G networks. Then there are business/administrative questions to consider: can the EV charging stations be monetized? How can you capture applicable rebates and incentives? These facets demand a diverse range of expertise, so finding an experienced consultant who can help you navigate the process is critical.
EV charging is a revenue-generating stream and a potential game changer for retailers. While the charging technologies are still maturing and the planning process may seem daunting at first, with careful design and execution, EV-readiness presents an opportunity for property owners and developers to attract customers and boost ROI.
— Patrick Lorimer is the executive director of Integrated Environmental and Engineering Solutions, which provides civil, geotechnical, environmental, MEP, survey, health and safety, and industrial hygiene services. Partner Engineering and Science, Inc. offers full-service engineering, environmental, energy consulting and design services throughout the Americas, Europe and around the globe. Visit www.partneresi.com.