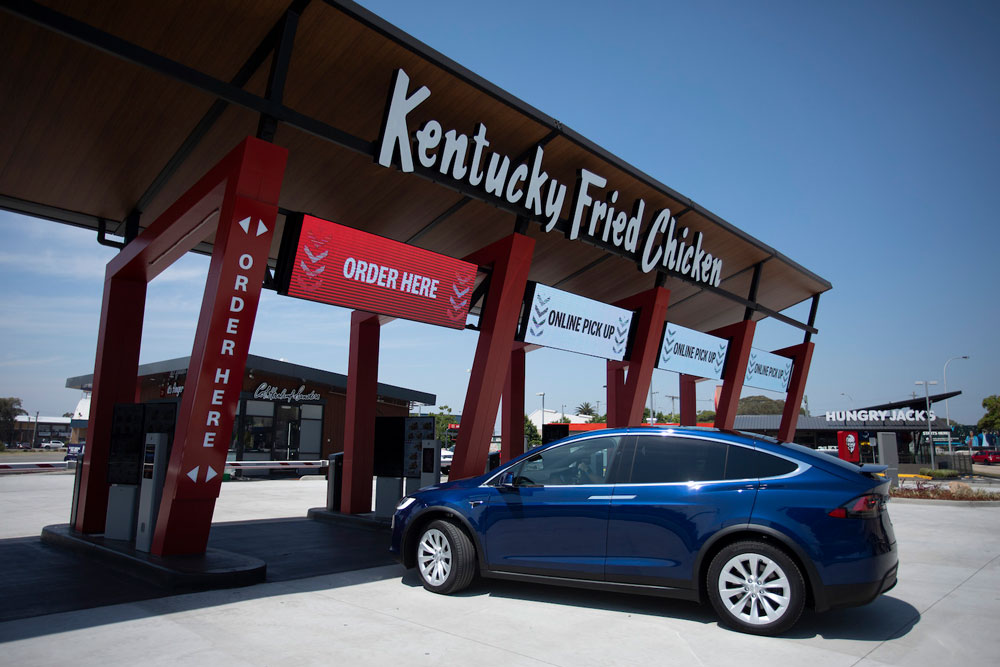 Cincinnati — International retail design firm FRCH NELSON has partnered with KFC SOPAC to design an innovative, pilot project in Newcastle, Australia, opening to the public this week. With a growing number of consumers ordering through online channels, the goal of the new concept was to develop a more efficient operating model that celebrated this change in consumer behavior.
The new concept includes five drive-thru lanes that allow customers to order and pay for a meal through the brand's app or website, including designated lanes for more traditional, on-the-spot orders. For online orders, customers can drive up and enter a four-digit code, generated by the app, on a touchscreen, which will then send their order to the kitchen where it is freshly prepared and ready for collection.
Not having a public-facing interior, the FRCH NELSON team found key opportunities to celebrate the brand on the building's exterior. "With traditional restaurants, the building is the experience, but with this new concept it became a fixture — one element supporting the overall experience. We had to utilize every exterior touchpoint from the landscaping, to the signage, to the architecture of the drive-thru portal, to create a holistic experience for guests," says Marty McCauley, design director at FRCH NELSON.
The goal of the new design was to create a holistic drive-thru experience, leveraging architecture, communication, service and landscape to create an elevated guest experience.
Guests are first greeted by a larger than life halo-lit Colonel Sanders layered atop the building's wood cladded walls, complete with a Kentucky Fried Chicken lit branding on the wall. Once guests pull around, they are met with the drive-thru portal where bold architecture creates a true beacon for the experience.
"The portal architecture was an opportunity to create an ownable element for the brand. We needed a bold moment that dialed up the scale since the entire guest journey is taking place within a car," says McCauley. Again, the repetition of the red stripes reinforces the brand, while the outline is a wink toward the restaurant's signature chicken bucket.
FRCH NELSON, a NELSON brand, is a global brand experience firm delivering architecture, interior design, graphic design, branding services and consulting services for all facets of the retail and restaurant industry, from innovation to implementation. Clients include Macy's, Saks Fifth Avenue, Tiffany's, Yum! Brands, The Kroger Company, Disney, American Girl, T-Mobile, Dick's Sporting Goods and Target. For more information, visit www.frchnelson.com.
Yum! Brands, Inc., based in Louisville, Ky., has over 41,000 restaurants in more than 125 countries and territories. Its brands include KFC, Pizza Hut and Taco Bell.
SOURCE: FRCH NELSON
classic-editor-remember:

classic-editor

abkw-text:
Tagged under