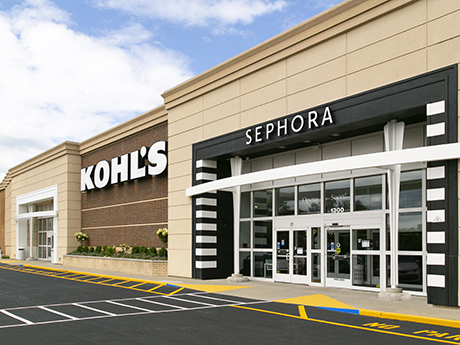 Menomonee Falls, Wis. — Kohl's plans to increase its investment in brick-and-mortar with the addition of 100 new, smaller-format locations over the next 4 years in previously untapped markets.
This expansion follows the pilot of 20 stores featuring the company's smaller-format design, which averages around 35,000 square feet versus the traditional 80,000-square-foot iteration. In June, the Menomonee Falls, Wis.-based company will be opening a smaller-format shop in Bonney Lake, Wash., and in the fall, stores are set to open in San Angelo, Texas; Morgantown, W.Va.; Tacoma, Wash.; and Lenox, Mass.
Alongside the addition of these new locations, Kohl's will be modernizing its existing 1,165-store portfolio by transforming the flow of its interiors to include dedicated discovery zones with products from diverse- and female-owned companies.
The company will also be expanding its partnership with beauty retailer Sephora through the addition of 850 of its Sephora at Kohl's shop-in-shops by 2023. Sephora at Kohl's shops, which typically occupy 2,500 square feet toward the front of the store, offer an expanded collection of the San Francisco-based retailer's make-up, skin- and hair-care, and fragrance offerings.
Kohl's also plans to roll out omnichannel initiatives over the next year, including the ability to buy products online and pick up in-store (BOPIS). Kohl's is testing self-serve returns and self-checkout services in its stores to help simply the purchase and return process.
"Kohl's began with roots as a brick-and-mortar company, and these 60 years of experience have set the company up to become a leading omnichannel retailer," says Mark Griepentrog, chief property officer at Kohl's. "Our strong and productive off-mall store base can continuously evolve with our customers' expectations and demand, and we see substantial opportunities to leverage our real estate in producing long term growth."
— Katie Sloan
SOURCE: Heartland Real Estate Business
classic-editor-remember:

classic-editor

bs_sponsor_advertiser_id:

109286

bs_sponsor_advertisement_id:

bs_ads_disabled:

abkw-text: