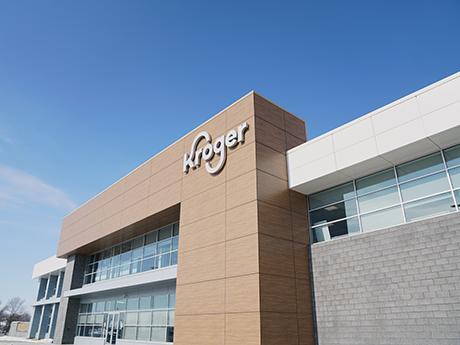 Cincinnati — The Kroger Co., the largest grocery store chain in the country, has announced five new customer fulfillment centers (CFCs) that the company will operate along with UK-based delivery logistics partner Ocado Group. The new Kroger Delivery facilities include a distribution center in the Northeast, as well as two centers in Southern California and a pair of facilities in South Florida.
The vertically integrated CFCs will utilize machine learning and robotics and serve both Kroger customers and regional stores. The locations, size and construction timelines for these fulfillment centers were not disclosed because Kroger's team members are still in the site selection process, but the Northeast CFC will be the Cincinnati-based grocer's first in the region.
Pictured is the newly opened customer fulfillment center in Groveland, Fla. The new Kroger and Ocado facilities use automation and robotics, as well as manual labor from Kroger employees.
"We feel great about the momentum we're experiencing with Kroger Delivery and our partnership with Ocado and are strategically leveraging our assets to expand our operations in existing regions, as well as enter new geographies on the East Coast that leverage facilities across a growing range of sizes," says Rodney McMullen, chairman and CEO of Kroger. "Kroger Delivery is a thriving part of our dynamic ecosystem and is transforming grocery e-commerce and meeting a range of customer needs."
The Southern California properties will be "medium- and small-sized," according to Kroger. The two South Florida facilities will join Kroger and Ocado's recently opened fulfillment center in Groveland, Fla., as well as two "spoke sites" in Jacksonville and Tampa. The two new facilities will be Kroger's first "Zoom" micro fulfillment properties in the country.
In addition to the Groveland facility, Kroger and Ocado recently opened a CFC in Monroe, Ohio. In the near future, the grocer and logistics firm will open previously announced CFC locations in Phoenix; Dallas; Forest Park, Ga.; Frederick, Md.; Romulus, Mich.; and Pleasant Prairie, Wis. These properties span roughly 350,000 to 375,000 square feet each.
"We have a pipeline of sites in development across the United States, with several scheduled to open next year," says Gabriel Arreaga, senior vice president and chief supply chain officer for Kroger. "We're excited to continue delivering the Kroger experience to more doorsteps."
Kroger's employs 500,000 associates across 2,742 stores and 45 distribution centers. The company's brands include Kroger, Food 4 Less, Fred Meyer, Harris Teeter, Mariano's and Ralphs, among others. Kroger plans to hire 20,000 new associates for the 2021 holiday shopping season.
McMullen says Kroger aims to double its digital sales and profitability rate by the end of 2023. The grocer's digital sales have grown by 114% over the past 2 years, according to its fiscal second-quarter 2021 earnings report. (Kroger's fiscal second quarter 2021 ended on Aug. 14.)
— John Nelson
SOURCE: www.REBusinessOnline.com
classic-editor-remember:

classic-editor

abkw-text:
Tagged under