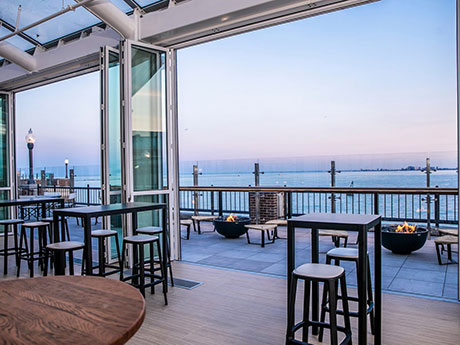 Chicago — Offshore, a 52,300-square-foot rooftop deck, has opened on the third floor of Chicago's Navy Pier. The Guinness Book of World Records has named the establishment "the world's largest rooftop deck." KOO, a Chicago-based architecture and commercial interior design firm, designed Offshore to allow guests experience a luxurious "cruise" for the price of a meal or drink.
The deck includes a bar, kitchen, terraces, seven fire pits, an entertainment and gaming area and multiple gathering spaces. Culinary direction for Offshore is led by Executive Chef Michael Shrader. Modern American cuisine is served as small, shareable plates. Clay Livingston, formerly of Red Herring Lounge and Kitchen, curates the beverage program seasonally, with house made craft cocktails, wine, champagne and local craft beer.
Offshore is a cornerstone of Navy Pier's Centennial Vision to reimagine and redevelop the 100-year-old destination.
Given the Pier's humble beginnings as a shipping hub built on a wood pile foundation, Offshore's structural design was technically challenging. To accommodate imaginative features like the structure's soaring, barrel-vaulted roof, epic yet elegant 100-foot-long bar and mutable activity areas, KOO's architects put the gleaming white structural system front and center, making it an eye-catching decorative feature. Its pioneering EFTE roof — layers of superlight inflated polymer — admits diffused light year-round. Coupled with glass window-walls that fold open, Offshore feels like an outside venue year-round.
Design highlights of the venue include:
A sleek, airy 20,000-square-foot barrel-vaulted structure that pays homage to Navy Pier's landmarked 1916 design yet incorporates modern, state-of-the-art building technology;
A translucent, superlight, air-filled ETFE roof that filters light and warmth in year-round and shaves off enough pounds for the structure to sit atop Navy Pier's Shelter Building;
Operable glass walls that open onto a 30,000-square-foot waterside rooftop deck with seven firepits;
Two sprawling outdoor lawns for games, events, lounging and dining;
A 450-square-foot Y-shaped container garden to commemorate the three branches of the Chicago River; and
Subtle nautical details like boat-stitched banquettes, custom brass whistle-shaped light fixtures, captain's chairs, weathered metal and wood tables and a colorful "propeller wall" at Offshore's entrance.
SOURCE: Koo, REBusinessOnline
classic-editor-remember:

classic-editor

abkw-text:
Tagged under