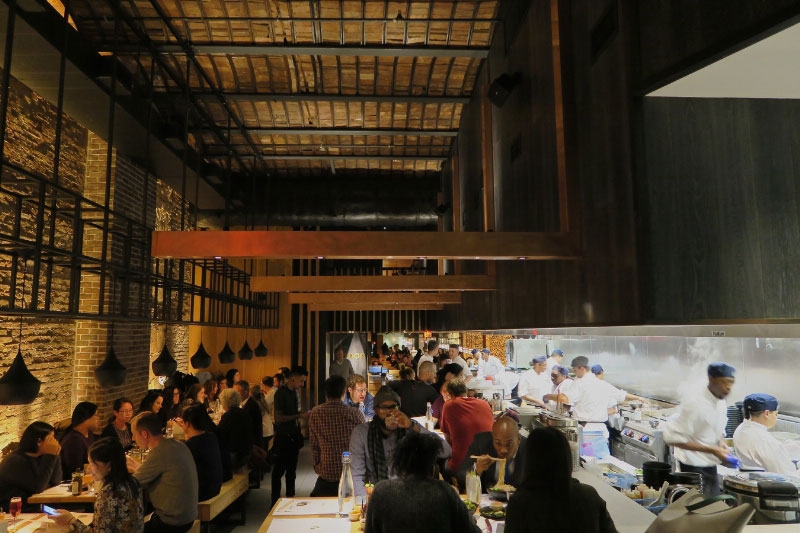 New York City — On November 16, 2016, the beloved London restaurant and noodle bar, wagamama, opened its first New York location at 210 Fifth Ave. at 26th Street, bordering the NoMad and Flatiron neighborhoods.
The Manhattan opening marks several firsts for wagamama, including the debut of an Asian-inspired weekend brunch and a full bar and cocktail list created with New Yorkers in mind.
The menu of Asian food is inspired by the flavors of Japan. All dishes are prepared in an open kitchen at the heart of the restaurant, and are served as soon as they are ready — a long-established practice of wagamama. The noodles, a proprietary wagamama recipe perfected over 24 years, are imported from the UK.
The expansive, bi-level restaurant, with entrances on both Fifth Avenue and Broadway, is sleek and modern with exposed brick walls, pendant lamps and rich wood accents. Minimalist wood and metal stools offer seating at individual tables throughout, while communal tables — another founding principle of wagamama — seat up to 18 on long benches and establish a sense of equality among diners. Additional seating is available at a long, marble bar and on a large mezzanine overlooking the main dining room.
"Our Fifth Avenue location is really special, overlooking Madison Square Park. The whole NoMad/Flatiron area it is so vibrant and evolving fast into a key New York food hub. New York has always been on our wish list, and in my mind, alongside London, is one of the world's two top cities," says David Campbell, CEO of wagamama. "We are very grateful for the warm welcome New Yorkers have given us already, and are quietly confident wagamama will become a local favorite."
wagamama was founded in London's Bloomsbury district in 1992. The company is seen as a pioneer of the communal table, open kitchen and customizable, made-to-order menu.
wagamama has become an iconic part of British dining culture and expanded to more than 160 locations worldwide. For more information, visit www.wagamama.us.
SOURCE: wagamama