Stephanie Plummer, National Program Manager, Retail
EPA
One of the most important ways retailers can leverage the ENERGY STAR® program is by communicating their successes.
When shoppers enter the Staples store in Shrewsbury, Massachusetts, just outside of Boston, they are greeted by a giant banner on the front of the building and another banner inside the store, informing them that they are walking into an ENERGY STAR certified building. With more than 80% of the American public recognizing ENERGY STAR as the symbol for energy efficiency, this can be a powerful welcoming message.
Staples is one of more than 150 retailers that have partnered with the U.S. Environmental Protection Agency's (EPA) ENERGY STAR program to improve the energy performance of their buildings and to demonstrate their environmental stewardship. These retailers are utilizing free ENERGY STAR resources to help them develop and implement energy management plans, measure and track the energy performance of their buildings, prioritize improvements across their portfolio, and earn recognition for their energy management successes. Throughout this ongoing process, they can also use ENERGY STAR resources to engage employees and communicate their accomplishments to customers, stakeholders and the public, just as Staples has done through its store banners and signage.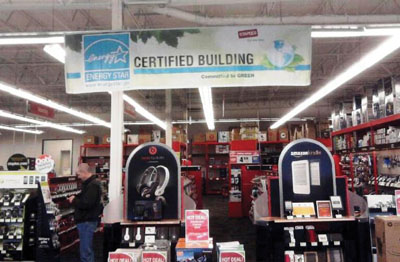 Before a retailer can start communicating its energy management accomplishments, however, it needs to know where it is starting and assess improvements. EPA's free online measurement and tracking tool, Portfolio Manager, allows retailers to assess the energy performance of their buildings as compared to similar buildings nationwide. By entering information into Portfolio Manager, such as basic building operating characteristics and at least 1 year of energy data, retail operators can receive an energy performance score on a 1-100 scale, where 1 indicates the poorest performance and 100 indicates the best performance. Buildings achieving a score of 75 or higher — indicating that they are in the top 25% of energy performers nationwide — are eligible to earn the prestigious ENERGY STAR. On average, buildings earning the ENERGY STAR use 35% less energy than typical properties.
The substantial cost savings that come with using less energy, combined with the opportunity to communicate successes and partnership with ENERGY STAR, present great incentives for retailers to work towards ENERGY STAR certification for their stores, and, as of May 2011, over 1,400 retail buildings have earned the ENERGY STAR. Many of the country's leading retailers have entered tens of thousands of buildings into Portfolio Manager to assess their energy performance. These retailers have found that by entering data for an entire portfolio of buildings, they can analyze and compare the relative performance of all facilities. Because Portfolio Manager helps to identify high and low performing buildings, organizations can better set priorities for improved operations and maintenance, as well as equipment upgrades and retrofits across a portfolio. By regularly updating Portfolio Manager with current energy consumption data, an operator can establish an energy performance baseline and then track and verify improvements over time.
Since Portfolio Manager can also track costs, retailers can easily calculate savings resulting from energy management projects, which helps the energy management team to communicate results to upper management in terms that demonstrate savings to the bottom line. For example, for the average retail store, a 10% decrease in energy costs has an equivalent impact on operating income as a 1.26% increase in sales. Demonstrating the financial value of energy savings in terms that resonate with key decision-makers can help make the case for future investments in energy efficiency.
Opportunities for Recognition with ENERGY STAR
Once retailers have been tracking energy performance and making improvements in stores, they may find that there are other buildings, such as offices, distribution centers, or even the whole portfolio that can earn ENERGY STAR recognition. Achieving ENERGY STAR recognition can help companies publicly demonstrate their commitment to energy efficiency and environmental stewardship.
The ENERGY STAR program offers a variety of recognition opportunities for exemplary performance in energy management. In addition to earning the ENERGY STAR for a single building, EPA provides recognition for superior energy management across a portfolio of buildings. Retailers that have improved the energy performance of buildings across their portfolio by 10%, 20% or 30%, or have achieved a portfolio-wide average score of at least 75, can earn ENERGY STAR Leaders recognition. Every year, EPA also recognizes a handful of partners for their outstanding energy management achievements through the ENERGY STAR Partner of the Year Award. In 2011, EPA recognized jcpenney with the ENERGY STAR Award for Sustained Excellence — having received its fifth consecutive award recognition — along with Kohl's Department Stores and Staples, Inc. as Partner of the Year Award recipients.
Free Communication Tools and Resources
Retailers are well positioned to raise awareness about energy efficiency in commercial buildings among the growing market of environmentally-conscious shoppers that walk through their doors, and EPA offers ENERGY STAR tools and resources to help.
Retailers have found that a successful energy awareness campaign begins with educating employees about their company's energy management goals while demonstrating how employees can help drive down energy consumption through their own actions. The ENERGY STAR Bring Your Green to Work campaign helps organizations communicate the importance of energy efficiency and environmental stewardship to employees, and contains a "brownbag toolkit" to help partners host their own educational lunch sessions.
Several companies have taken the lead in challenging employees to take action and responsibility for energy conservation. For example, jcpenney has a web portal on its internal website for employees to learn about the energy used in its stores. PETCO helped to educate its employees about energy through the creation of an energy awareness quiz during Energy Awareness month last October. Some retailers have also provided recognition for their employees that have helped reduce the company's energy usage. Staples held an event to celebrate its first 100 ENERGY STAR certified stores and invited the store managers of each location to the event.
Retailers have been incredibly creative in communicating to their customers about company involvement with ENERGY STAR. For example, jcpenney uses in-store announcements and customer receipts to promote its ENERGY STAR Sustained Excellence award and involvement in energy-saving practices. Kohl's uses overhead store announcements to remind customers of the company's participation in the ENERGY STAR program, including achieving Partner of the Year and the most certified stores of any retailer. Other retailers include the ENERGY STAR logo on their company websites, as well as display ENERGY STAR certification decals at store entrances, and hang ENERGY STAR banners inside their stores.
In addition to direct outreach to customers, ENERGY STAR partners often highlight energy management successes and forward-looking goals in annual or sustainability reports. Target, for example, recently announced its commitment to earn the ENERGY STAR for 75% of its stores by 2016.
Innovative communication strategies can play a large role in helping to increase awareness about energy efficiency and drive even more energy savings at businesses and homes. Educating customers, employees and the general public about the benefits of energy management can raise awareness in communities across the country. Not only does increasing energy efficiency boost a retailer's bottom line, but communicating these efforts can help to create or reaffirm a positive perception of the retail brand.
— Stephanie Plummer is national program manager, Retail, ENERGY STAR Commercial & Industrial Buildings for the U.S. Environmental Protection Agency.