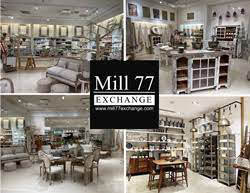 North Hampton, N.H. — Mill 77 Holdings LLC is expanding its Mill 77 Exchange brand, enlarging its New England footprint with a new flagship store in North Hampton, N.H. This new location, a former Staples building, spans 20,000 square feet and is the brand's largest location yet. This addition is the fifth location of the Mill 77 Brand of home furniture and décor.
"There's no doubt that our new flagship store in New Hampshire is the look and feel of our future," says founder Gary Bergeron. "Today's customer is looking for a quality product and also a quality experience. I believe that our newest location gives them just that. We believe that regardless of the internet, there is still a need for that locally owned and operated home furnishings store. At Mill 77 Exchange, our customers get the best quality, selection and value that we can find for them. This is the fourth location we've opened in the last few years and even through the difficulties of COVID, we've been pushing forward and it's been working."
Mill 77 offers a personally curated selection of on both locally made and imported vintage inspired furniture, décor and textiles and more.
Many of Mill 77's furniture is hand made in the United States. Mill 77 currently has locations in Newburyport, Mass., Lynnfield Market Place in Lynnfield, Mass., Legacy Place in Dedham, Mass., Derby Street in Hingham, Mass. The newest location is at Lafayette Plaza in North Hampton, N.H.
Mill 77 was founded in 2010 by Bergeron and his wife, Julie.
"We couldn't have chosen a better location to bring our unique brand of vintage inspired home furnishings to our customers living on the coast," says Julie Bergeron, co-owner of Mill 77 Exchange. "As a 'Family First' company, Mill 77 is a place where our children and grandchildren work alongside us to help keep our family dream alive. We look forward to sharing our passion with the New Hampshire community."
SOURCE: Mill 77 Holdings LLC
classic-editor-remember:

classic-editor

bs_sponsor_advertiser_id:

109286

bs_sponsor_advertisement_id:

bs_ads_disabled:

abkw-text: