Atlanta — A new food hall is coming to Colony Square, the 50-year-old mixed-use destination undergoing a massive $400 million transformation at the corner of 14th and Peachtree Street in Midtown Atlanta. The food hall will open this spring and is being carefully crafted to align with the way people want to dine post-pandemic. Politan Group will operate the food hall known as Politan Row at Colony Square, according to project developer North American Properties (NAP).
The founder and CEO of Politan Group, Will Donaldson, launched the company in 2014 with St. Roch Market in New Orleans, the first food hall in the South. Politan Group has since opened six food halls in Chicago, Miami, Houston and New Orleans. Of Politan Group's food halls, three have won best restaurant awards and three of its original food concepts have been nominated for James Beard awards. Colony Square marks the seventh and largest food hall in Politan Group's portfolio, with room for 11 food and beverage concepts, a central bar and three event spaces (plus a secret bar).
Politan Group builds design-forward food halls with original food concepts from up-and-coming local chefs. The options are always global and offer culinary exploration without the chaotic feeling you can get at many food halls.
"Food halls provide an unparalleled social and cultural environment where people from all walks of life can mingle over a shared experience and experiment with unique fare at approachable price points," says Donaldson. "There is pent-up demand for socialization brought on by the pandemic, and we expect food halls to play a major role in the resurgence of the experiential food and beverage economy. Our food hall will be designed to elevate local culinary talent and deliver a dining experience that resonates with post-pandemic foodies."
More than half of the square footage at Politan Row at Colony Square is dedicated to outdoor dining. Interior space makes up approximately 20,000 square feet, while outdoor space encompasses 22,000 square feet. The food hall also features a "NanaWall" that opens up the interior space to engage with the outdoors. The outdoor experience includes The Plaza, The Patio and The Grove.
The Patio features a variety of covered seating and shuffleboards and fronts the stage and Plaza at Colony Square. Separately, there will be an outdoor bar, which allows open carry of beverages throughout Colony Square. The Plaza will open to the public after October 8.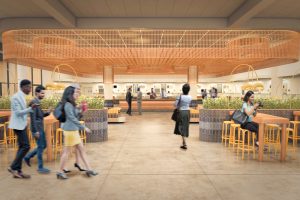 Politan Group is also implementing a full digital interface that provides an alternative to the traditional counter-order experience — meaning guests don't have to approach the counter unless they want to. Guests can use the technology to easily place orders and utilize contactless pick-up and drop-off options. The food hall will also be equipped with movable, flexible furniture to easily accommodate occupancy restrictions and create comfortable space between groups.
"The food hall model already complements the way people want to dine post-pandemic, with quick, counter-service, quality, cost-conscious food and flexible seating," says Mark Toro, chairman of NAP Atlanta. "Our food hall will take these benefits even further by providing ample outdoor space and enhanced technology that creates a seamless dining experience for people who are coming out of social isolation and desperately craving community togetherness."
Politan Row at Colony Square was intentionally designed by female-duo-led design firm Bell-Butler to reflect the Midtown aesthetic and urban lifestyle.
"We want people to enter our food hall and see all their options at once, nobody is hidden," says Lindsay Butler of Bell-Butler. "The design is warm and cozy; it's the kind of place you want to live in. Because of the history at Colony Square, we are taking cues from the mid-century modern era. It'll look unlike any other dining destination in Atlanta and be truly unique to Midtown."
When NAP acquired Colony Square in 2015, the team recognized the Midtown market's desire for a walkable gathering place with great food and approachable prices. Politan Group is talking with local, independent chefs and restaurant owners who are looking for low-risk, high-reward opportunities to grow their businesses post-pandemic. The team is focused on creating a diverse mix of culinary offerings that deliver something new to Midtown's dining scene.
NAP started construction on the redevelopment of Colony Square in October 2017. The complex, multi-phase project involves demolishing the former mall, breaking up the fortress-like footprint, pushing out the street-level retail, adding two office buildings and creating new pedestrian connectivity throughout the community. The reimagined Colony Square features a variety of open-air gathering places, such as The Grove and The Plaza; a resort-level Concierge program; and modern dining and entertainment experiences, like luxury dine-in movie theater IPIC which will open later this year above the food hall.
New restaurants at Colony Square include Sukoshi, Freshii, Holeman and Finch Public House (opening soon), Rumi's Kitchen (opening next spring) and Brown Bag Seafood Co. (opening late September), along with pre-redevelopment favorites 5Church Atlanta, Establishment, Starbucks, Chick-fil-A and Moe's Southwest Grill. For more information, visit www.colonysquaremidtown.com and www.politanrow.com.
Founded in 1954, Cincinnati-based North American Properties is a privately held, multi-regional real estate operating and development company that has acquired, developed and managed more than $7 billion of mixed-use, retail, multifamily and office properties across the United States. For more information, visit www.naproperties.com.
SOURCE: North American Properties
classic-editor-remember:

classic-editor

abkw-text: