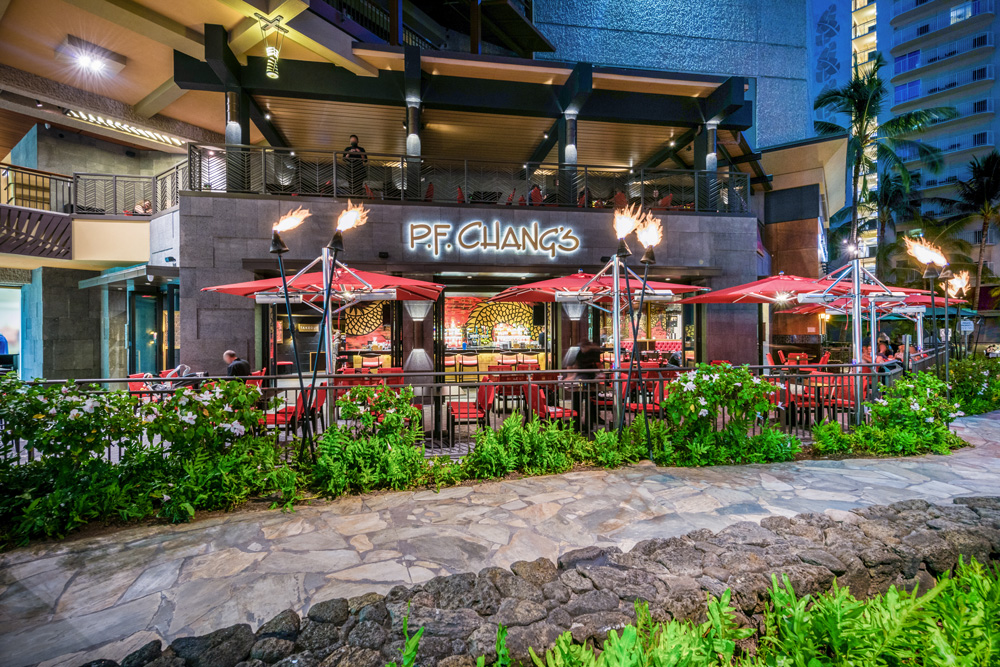 Scottsdale, Ariz. — P.F. Chang's has opened its Royal Hawaiian location as an upgraded flagship restaurant. The Honolulu dining destination was the focus of significant investment recently completing a 6-month renovation, resulting in significant upgrades to design, décor and ambiance at the 10,000-square-foot site. The new flagship at 2201 Kalakaua Ave. opened on September 7.
"P.F. Chang's prides itself in offering an immersive Asian dining experience, and this new flagship location allows us to do so in a distinctly differentiated way," says Tana Davila, chief marketing officer at P.F. Chang's. "Our restaurants provide a destination for guests — whether it's a holiday, birthday or night out with friends and family — and this location certainly takes that to a new level."
The exterior of the restaurant is made entirely of puka lava stone, native to the island. Large windows and doors offer an open-air dining experience, weather permitting. Guests will enjoy two patios: a casual downstairs patio and a more private, exclusive upstairs patio. P.F. Chang's iconic murals, hand painted by Nyla Lee, will be on display with the main artwork featuring a famous Chinese proverb that translates to "be not afraid of going slowly, be only afraid of standing still." Other murals feature characters that translate to "the gathering place."
The QR code menus will be offered in multiple languages, including English, Japanese, Korean, Cantonese and Mandarin, demonstrating the diverse clientele — from locals to international tourists — who will frequent the restaurant.
The new flagship location is part of an exciting brand refresh across the United States. All existing P.F. Chang's locations are scheduled for updates by the end of 2022, including new music, lighting, décor, uniforms and menu presentation. Additionally, there are P.F. Chang's To Go restaurants opening across the country, with more than 50 To Go locations, including Colorado, Florida, Texas, New York, Louisiana, Nevada and Arizona, by the end of 2022.
P.F. Chang's Royal Hawaiian marks the brand's second flagship location, joining the Las Vegas flagship location, which opened in April after similar renovations and upgrades.
Founded in 1993 by Philip Chiang and Paul Fleming, P.F. Chang's is the first internationally recognized multi-unit Asian culinary brand to honor and celebrate the 2,000-year-old tradition of wok cooking as the center of the guest experience. Worldwide, P.F. Chang's has more than 300 restaurants in 23 countries and U.S. airport locations, including a growing number of convenient P.F. Chang's To Go locations offering takeout and delivery. For more information, visit www.pfchangs.com.
SOURCE: P.F. Chang's
classic-editor-remember:

classic-editor

abkw-text: