Atlanta — Papa John's has unveiled a new design for international restaurants. Premium ingredients are highlighted throughout the new restaurant through colors, lighting and décor that showcases Papa John's new visual brand identity. In a streamlined and flexible environment, Papa John's team members will be equipped to more efficiently create quality food and serve it in the seamless, personalized ways that today's customers prefer.
Following the rollout of a more modern design for Papa John's restaurants in North America that began last year, this new design for international restaurants will elevate the Papa John's experience across the wide range of Papa John's restaurant formats found around the globe. Whether a particular restaurant has been built to focus on delivering pizza to customers, serving dine-in guests or a combination of the two, Papa John's international franchise partners are being equipped with materials and finishes that can be accommodated and tailored for each of their restaurants' specific needs. The first restaurant constructed in the new design has opened in China's Hubei province, and another seven locations are currently under construction or renovation across Jordan, United Arab Emirates, Saudi Arabia and Kenya. Following Papa John's growth in the opening of new international restaurants across the globe and expansion into new countries, the new design represents the latest way Papa John's is evolving the experiences of its customers and teammates.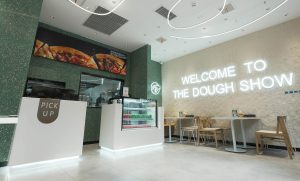 "By reinforcing our premium position within the QSR pizza industry, this new restaurant design gives current and potential franchise partners another reason to say yes to developing with Papa John's," says Amanda Clark, Papa John's chief international and development officer.
In creating the new store design, the colors, surface materials and messaging both inside and out were artfully chosen to indulge the senses and provide visual cues that reinforce Papa John's crafted, quality products. Colors used were inspired by Papa John's premium ingredients and include Tangy Tomato (red), Fresh Basil (green), Fluffy Dough (off-white) and Punchy Garlic (light purple) to provide bold pops and playful accents. On the walls, customers will find artwork depicting Papa John's new "hand drawn happiness" illustration style that reflects both the vibrancy of the Papa John's brand as well as the hand-crafted nature of its products. Digital screens and ordering kiosks will help customers choose and customize their order in a sleek, modern and seamless experience.
Papa John's International, Inc. first opened in 1984 and is co-headquartered in Atlanta and Louisville, Ky., with more than 5,500 restaurants in 47 countries and territories as of September 25, 2022. For more information, visit www.papajohns.com.
SOURCE: Papa John's International, Inc.