Milford, Ohio — Penn Station East Coast Subs is updating its 35-year-old brand with the rollout of PS 2020, which includes a restaurant redesign and certain menu changes and additions. The first restaurants with the new menu and design opened late last year, and all restaurants in the system now have the new menu.
"We spent the better part of a year gathering data, interviewing guests and franchisees, and speaking with crew members about the new layout and our menu changes," says Craig Dunaway, president. "From the data analysis, interviews and hours of observation, we knew we had something that everyone would embrace."
Penn Station's revised menu focuses on bringing the brand's expertise in hot sandwiches to cold sandwiches as well. The new menu includes six cold sandwiches and highlights eight wraps and salads.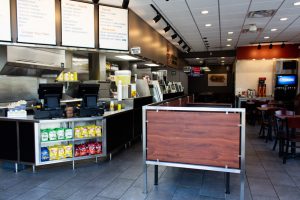 Penn Station has also updated its restaurant design. The PS 2020 design offers an unimpeded view of employees making grilled or cold sandwiches and a more prominently placed deli case. With the new design, customers place and pay for their order in one spot, and both POS stations are in the front of the restaurant. Online and delivery orders are picked up in a different location within the restaurant, so customers do not have to wait in line to pick up their order.
"The flow process from walking in the restaurant to receiving your order is seamless for customers and employees with the new design," Dunaway says. "The design highlights our freshly sliced meats and cheeses and allows customers to see their sandwich being made to order. It also makes the carryout process smoother, which is important as we continue to see an increase in off-premise consumption, even before COVID-19."
There are currently nine restaurants with the PS 2020 design, and all restaurants opening from now on will feature the new design.
"We expect to have more restaurants with the PS 2020 layout by the spring of next year," Dunaway says. "What's even more exciting is that many of those new restaurants are being opened by longstanding franchisees who see the value in the new more efficient design and the menu enhancements we've made."
Founded in Cincinnati, Ohio in 1985, Penn Station East Coast Subs has more than 310 locations in 15 states including Ohio, Georgia, Illinois, Indiana, Kansas, Kentucky, Michigan, Missouri, North Carolina, Pennsylvania, South Carolina, Tennessee, Virginia, West Virginia and now Nebraska. Penn Station is celebrating 35 years in business in 2020.
Projections call for the opening of eight to 12 restaurants nationwide in 2020. Penn Station is targeting Kansas City, Omaha, Charlotte, Detroit, Pittsburgh, Nashville, Richmond and Raleigh for franchise expansion. For more information, visit www.penn-station.com.
SOURCE: Penn Station East Coast Subs