— By Katie Lee —
With an 18,000-square-foot physical store now open in Manhattan, PUMA has created an exciting new retail experience fusing sports, fashion and technology.
In August 2019, PUMA burst on the U.S. retail scene in a brand-new way: opening its first North American flagship store. Located at 609 Fifth Avenue in New York City, the massive 18,000-square-foot space with double-height storefronts uses cutting-edge technology and products to immerse the customer in the PUMA experience. A sports engagement zone and a customization studio are just two of the interactive, tech-driven offerings at the store.
"This store is unlike any other store we have ever opened in both scale and technology," says Russ Kahn, senior vice president of retail for PUMA. "It is far larger than our typical full-price store, which is normally 2,500 square feet. The technology and interactivity of this store was created from the ground up as a unique experience for New York."
The New York flagship is the pinnacle of the German brand's 86 new stores that opened during 2019. By the end of the year, PUMA will have 832 stores open worldwide with 81 of those being in the U.S. and 19 in Canada. As evidenced by its recent expansion, PUMA has a strategic new emphasis on brick-and-mortar retail and has hit the ground running — and running fast.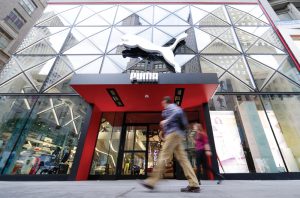 "PUMA's brand philosophy is 'Forever Faster,'" Kahn says. "This spans to everything we do — from product creation to marketing and every discipline in between. We need to be faster than ever in the way we react and adapt."
PUMA's approach to the new store strongly aligns with this mantra as well — not only does it push the boundaries of sports and fashion, it pushes the boundaries of design and technology. Designed by New York-based Design Republic in partnership with PUMA's own internal store design team, the flagship embodies "Forever Faster" through its high-tech, collaborative customization studio, PUMA x YOU. The new store also features a first-of-its-kind F1 racing experience,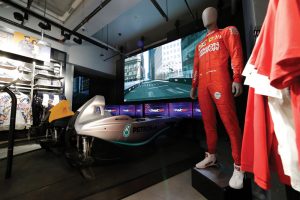 where consumers can hop into an authentic Mercedes or Red Bull F1 race car to compete in a race through the virtual streets of Manhattan, as well as a virtual engagement room where consumers can test new soccer cleats or training footwear in a simulated soccer stadium or training gym. Other tech highlights include augmented reality experiences; stadium seating and a large-screen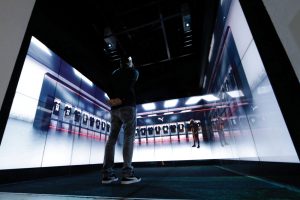 NBA2K gaming experience in the basketball zone; and "Magic Mirrors" in the fitting room seating areas, which allow RFID product to bring up alternative selections or colors based on the item the customer is trying on. The store's state-of-the-art RFID inventory management system can conduct a full physical inventory in less than 1 hour, know exactly what is on the floor vs. the stockroom, automatically receive product into inventory, and know if a display is missing. All product is also linked to puma.com through QR codes.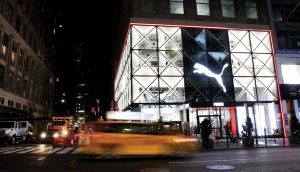 Both design teams worked closely with Shawmut Construction, which completed the store buildout. The eye-popping storefront design — which includes double-height storefronts across 160 feet of wraparound frontage — is based on PUMA's iconic suede show and was built by Seele, a leading storefront company based in Germany.
Nearly a month after the store opened, beginning over Labor Day weekend, the flagship store launched a customization studio, PUMA x YOU, in collaboration with a program called Chinatown Market University, where store patrons can customize their PUMA apparel, footwear and accessories using state-of-the-art printing technology. The Chinatown Market also teaches DIY classes. Beyond the flagship store, Chinatown Market University, in collaboration with PUMA, will pop up in various forms through 2020.
"PUMA has partnered with renowned artists and designers to bring its exclusive PUMA x YOU customization studio to the store," Kahn says. "Consumers can customize and personal [products] using paints, dips, dyes, patchwork, embroidery, 3D knitting, laser printing, pinning, material upcycling and many other creative mediums."
Inside the customization studio, new artist residencies begin every 2 weeks, including collaboration partners such as Sue Tsai, BWOOD, Maria Jahnkoy, Même. and Pintrill, with additional artists to be announced. So far, trying something wildly new from a retail perspective has been successful for PUMA, although not without its trials and errors.
"Any time you are creating new experiences and technologies, there are always going to be kinks," Kahn says. "The biggest challenge has been creating a single point of contact to maintain all of the different technologies and engagement zones within the store to make it seamless for the store team.
This new flagship marks just the beginning of what PUMA can do. With 60 stores planned to open in 2020, PUMA plans to invest heavily in North American stores.
"PUMA continues to see growth within the North American market, and we believe investing in this new store will help us in our pursuit to be the fastest sports brand in the world," Kahn says. "It only makes sense that our first-ever North American flagship would be here in New York City and we're incredibly excited to open our doors in Manhattan."
As Kahn points out, the athletic footwear and apparel market is becoming increasingly competitive — and that trend isn't going to change anytime soon. "We are increasing our retail presence along with market trends and putting down roots in Manhattan to continue making an impact on PUMA's retail operations," he says.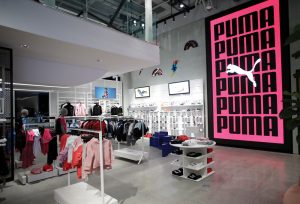 PUMA has a few dozen small corporate offices around the world, and four larger international hubs: Boston (moving to the Boston suburb of Somerville, Massachusetts, in 2021); Hong Kong; Ho Chi Minh City, Vietnam; as well as its global headquarters in Herzogenaurach, Germany.
From global corporate operations to local teams in the stores themselves, PUMA is focused at each level on what it wants to accomplish. As it continues to grow its direct-to-consumer business, PUMA's goal is to ensure it has the same consistency in brand experiences through all channels of distribution. Teamwork is a massive part of that. In fact, Kahn says he has never worked with such a cohesive team.
"We have the most dedicated, motivated and caring team I have worked with — and, in my opinion, in all of retail," Kahn says. "From the president down to part-time team members in the store, we are all working toward the same objective of giving the consumer the best brand experience possible. This team lives and breathes the brand; their passion comes through in everything they do."
— This article originally appeared as the cover story of the December 2019/January 2020 issue of Retail & Restaurant Facility Business magazine. Email the editor, Katie Lee, at [email protected].
classic-editor-remember:

classic-editor

abkw-text: