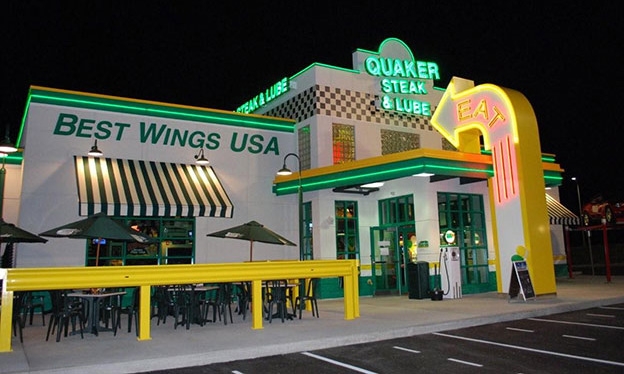 Westlake, Ohio — The fun family casual-dining franchise Quaker Steak & Lube has hired industry veteran Bruce Lane as vice president of franchise services. TA Restaurant Group, which acquired Quaker Steak & Lube in 2016, appointed Lane as part of its aggressive strategy to reinvigorate the 43-year-old brand and grow Quaker Steak & Lube into a nationally recognized concept through franchising.
In his new role, Lane will be fully engaged in all aspects of the business, responsible for leading the brand's super-charged franchise development efforts, franchise operations and spearheading strategic efforts to expand the popular restaurant chain's footprint nationwide.
"We're thrilled to welcome Bruce to the Quaker Steak & Lube executive team and have no doubt that his impressive experience in franchise operations and development will be a huge asset as we continue our goal of expanding the brand nationwide," says John Ponczoch, senior vice president of TravelCenters of America and head of TA Restaurant Group. "We believe Quaker Steak & Lube's potential for success is limitless, and are committed to evolving the brand while staying true to the guest-centric values that have made it an American favorite for decades. As we continue investing in our people, product and processes, we look forward to working with Bruce to accelerate our franchise successes to take the brand to new heights."
An industry veteran, Lane has extensive experience developing operationally sound and profitable restaurants and implementing growth and marketing strategies for several national foodservice and retail brands, most recently with franchise development and operations divisions at Fuddruckers and 7-Eleven. Additionally, as a multi-unit operator of five Waffle House locations, he has a comprehensive understanding of the franchising industry.
TA Restaurant Group, a division of Fortune 500 company TravelCenters of America, is one of the country's largest multi-unit operators with a franchise network of over 600 units with nearly 40 different foodservice concepts. TA Restaurant Group also is evolving Quaker Steak & Lube's restaurant design, while keeping the signature ambiance of racecars suspended from the ceilings and gas station memorabilia lining the walls. The brand will put a renewed focus on providing more flexible, non-traditional buildouts for franchisees to allow more aggressive growth in stadiums, colleges, kiosks and airports.
Quaker Steak & Lube®, founded over 40 years ago in Pennsylvania (the Quaker State) in a renovated filling station, now includes over 50 locations in 14 states across the U.S. For more information, visit www.thelube.com. 
TA Restaurant Group includes more than 850 quick-service restaurants, full-service restaurants and other food outlets, including 10 proprietary restaurant brands including Quaker Steak & Lube, Iron Skillet and Country Pride. TA Restaurant Group is a division of TravelCenters of America LLC. For more information, visit www.ta-petro.com.
SOURCE: Quaker Steak & Lube