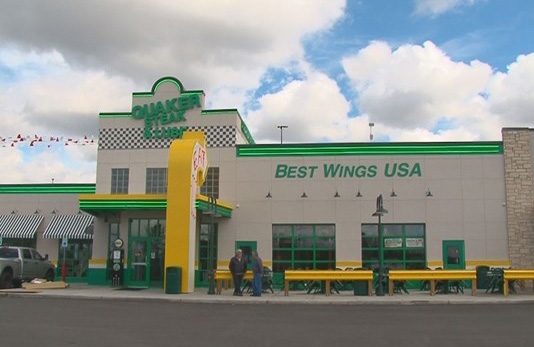 Westlake, Ohio — The award-winning, family casual-dining restaurant Quaker Steak & Lube®, has opened its newest restaurant in the newly constructed Petro Full Service Travel Center located on 25 acres of land in Columbia, S.C.
The new Quaker Steak & Lube, a division of the TA Restaurant Group, seats 276 guests and features a patio and two bars.
"Having a Quaker Steak & Lube at this location makes for an exciting addition to the wide array of amenities we now offer our customers. We are looking forward to bringing our guests together with great food and events to share with their family and friends," says John Ponczoch, senior vice president of the TA Restaurant Group, which operates and franchises Quaker Steak & Lube.
Those visiting the Columbia Quaker Steak & Lube can also enjoy The Beltline Lanes and Gaming Center, an entertainment offering constructed within the travel center that includes a 16-lane bowling alley, a 6,700-square-foot arcade gaming area and two virtual golf and gun range simulators.
Quaker Steak & Lube®, founded over 40 years ago in Pennsylvania (the Quaker State) in a renovated filling station, now includes over 50 locations in 14 states across the U.S. "The Lube"® combines unique décor, including gas station memorabilia, classic cars, motorcycles and race cars suspended from the ceilings. For more information, visit www.thelube.com.
Since opening its first restaurant in 1967, the TA Restaurant Group includes more than 850 quick-service and full-service restaurants and other food outlets, including 10 proprietary restaurant brands. For more information, visit www.ta-petro.com.
SOURCE: Quaker Steak & Lube