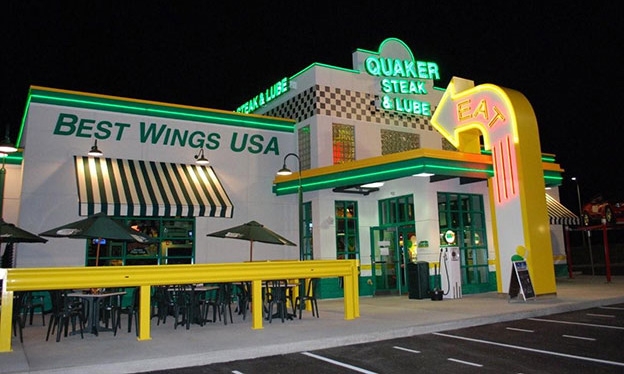 Westlake, Ohio — Quaker Steak & Lube® has promoted Bruce Lane to vice president of operations and franchise services. Lane joined the company earlier this year as vice president of franchise services and has been a fundamental part of TA Restaurant Group's ongoing plans to reinvigorate the 43-year-old brand and grow Quaker Steak & Lube into a nationally recognized concept through franchising.
In his new role, Lane will be responsible for leading the brand's internal operations and franchise teams, as well as continuing to spearhead strategic efforts to propel Quaker Steak & Lube's national footprint through franchising.
"While it's only been a few months since Bruce joined the Quaker Steak & Lube executive team, he's brought a wealth of knowledge and experience to the table and has been highly instrumental in our efforts to expand the brand's footprint," says John Ponczoch, senior vice president of TravelCenters of America and head of TA Restaurant Group. "We're thrilled to announce this well-deserved promotion, and have no doubt that expanding Bruce's role will accelerate the momentum we've generated this year through our aggressive efforts to evolve Quaker Steak & Lube and transform it into a nationally recognized brand."
In addition to having more than 25 years of experience developing operationally sound and profitable restaurants and implementing growth and marketing strategies for several national foodservice and retail brands, Lane was also a multi-unit franchisee of Waffle House.
TA Restaurant Group, a division of Fortune 500 company TravelCenters of America, includes more than 870 quick-service restaurants, full-service restaurants and other food outlets, including 10 proprietary restaurant brands including Quaker Steak & Lube, Iron Skillet and Country Pride. TA Restaurant Group is evolving Quaker Steak & Lube's restaurant design, while keeping the signature ambiance of racecars suspended from the ceilings and gas station memorabilia lining the walls. The brand will put a renewed focus on providing more flexible, non-traditional buildouts for franchisees to allow more aggressive growth in stadiums, colleges, kiosks and airports. For more information, visit www.ta-petro.com.
Quaker Steak & Lube®, founded over 40 years ago in Pennsylvania (the Quaker State) in a renovated filling station, now includes over 50 locations in 14 states. For more information, contact Bruce Lane at blane@thelube.com or visit www.thelube.com. To read Retail & Restaurant Facility Business's recent cover story on Quaker Steak & Lube, click here.
SOURCE: Quaker Steak & Lube