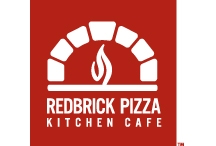 Dallas — RedBrick Pizza® Kitchen Café has chosen North Brunswick, N.J., for the grand opening of its newest location and the debut of a new store design for the growing franchise chain. The restaurant opened on December 18, 2017.
The restaurant is operated by Shivam J. Patel & Saad K. Farooq and marks the first RedBrick Pizza location in New Jersey.
"With our location close to Rutgers University, it's the ideal location for a RedBrick Pizza Kitchen Café," says Patel, a graduate of Rutgers. "This is exactly what we would have wanted when we were in school, and now we're making it happen for the community by serving high-quality, fresh pizza to the students and families in the area."
"RedBrick Pizza Kitchen Café is the casual dining experience that marries old world pizza artistry with a dash of something new," says Craig Erlich, CEO of BRIX Holdings, parent company of RedBrick Pizza. "In keeping with our commitment to our customers, our food is made fresh daily and is 100% trans-fat free."
The 2,250-square-foot restaurant interior features a vibrant new design for the chain with a contemporary, streamlined look, a state-of-the-art pizza oven and comfortable seating for 46 guests with an additional 8 to 10 outside in the spring. Customers will be able to walk through the line and "build their own" pizza or order one of RedBrick signature pizza recipes.
BRIX Holdings, LLC is a Dallas-based company that focuses on brands that are both attractive to the rapidly expanding single-unit owner/operator franchise market segment and have the potential to grow into national and international award-winning chains. The current BRIX Holdings portfolio includes the Red Mango® Yogurt Café Juice Bar, Smoothie Factory® Juice Bar, RedBrick Pizza® Kitchen Café, Greenz® and Souper Salad® chains.
For more information on RedBrick Pizza® Kitchen Café, visit www.redbrickpizza.com.
SOURCE: RedBrick Pizza Kitchen Café