Wausau, Wis. — Concluding its multi-year, multi-building renovation, The Royal Hawaiian Center in Waikiki, Hawaii, revitalizes and reestablishes itself as a premier shopping and entertainment destination. The 310,000-square-foot center is one of Hawaii's largest shopping malls. The 6-acre retail campus connects to the Sheraton Waikiki and Royal Hawaiian Hotel, just minutes from Waikiki Beach.
The center's refreshed exterior seamlessly blends with its lush surroundings, including an added green gathering space for entertainment and cultural programming. On Buildings A and C, designed by Architects Hawaii Ltd. (AHL), skylight systems by Super Sky Products Enterprises, LLC showcase natural light and views. Linetec painted the skylight's aluminum framing members in a durable, 70% PVDF resin-based coating to protecting against the intense sunlight, heavy rains, high humidity and salt spray.
Owned by RHC Property Holdings LLC, The Royal Hawaiian Center opened in 1979. The first phase of the $115 million renovation and expansion began in 2005. Callison Companies (now, CallisonRTKL, a design consultancy of Arcadis) is credited for this initial step in transforming what was once a dark, outdated shopping center into a vibrant, lifestyle-oriented retail and entertainment community.
Contributing to the destination's open, welcoming space, installation of a 50-by-100-foot single-slope glazing system by Super Sky is concluding this summer on Building A. General contractor Swinerton Builders is overseeing this portion of the renovation project.
The skylight system on Building A uses View Dynamic Glass, an electrochromic architectural glass that intelligently transitions through multiple tint states to control the sun's energy for optimum natural light and thermal comfort.
"Coastal environments are one of the most aggressive outdoor environments for aluminum," says Linetec's senior marketing specialist, Tammy Schroeder, LEED® Green Associate. "Without proper precautions and finishes, corrosion to these aluminum components can damage the building envelope's structural integrity, leading to systemic failure."
To mitigate corrosion's destructive results, Linetec supports projects with proper selection, specification, application and maintenance tips for finishes in coastal conditions. When high-performance 70% PVDF resin-based coatings are selected, Linetec applies these finishes to meet the American Architectural Manufacturers Association's stringent industry standards of AAMA 2605-13. In addition to resisting corrosion, these high-performance finishes are tested for proven resistance to water, salt spray, humidity, impact, chemicals, detergents, scratches and fading due to ultraviolet light. Finished aluminum also is fire retardant and does not swell, rot, warp or attract insects.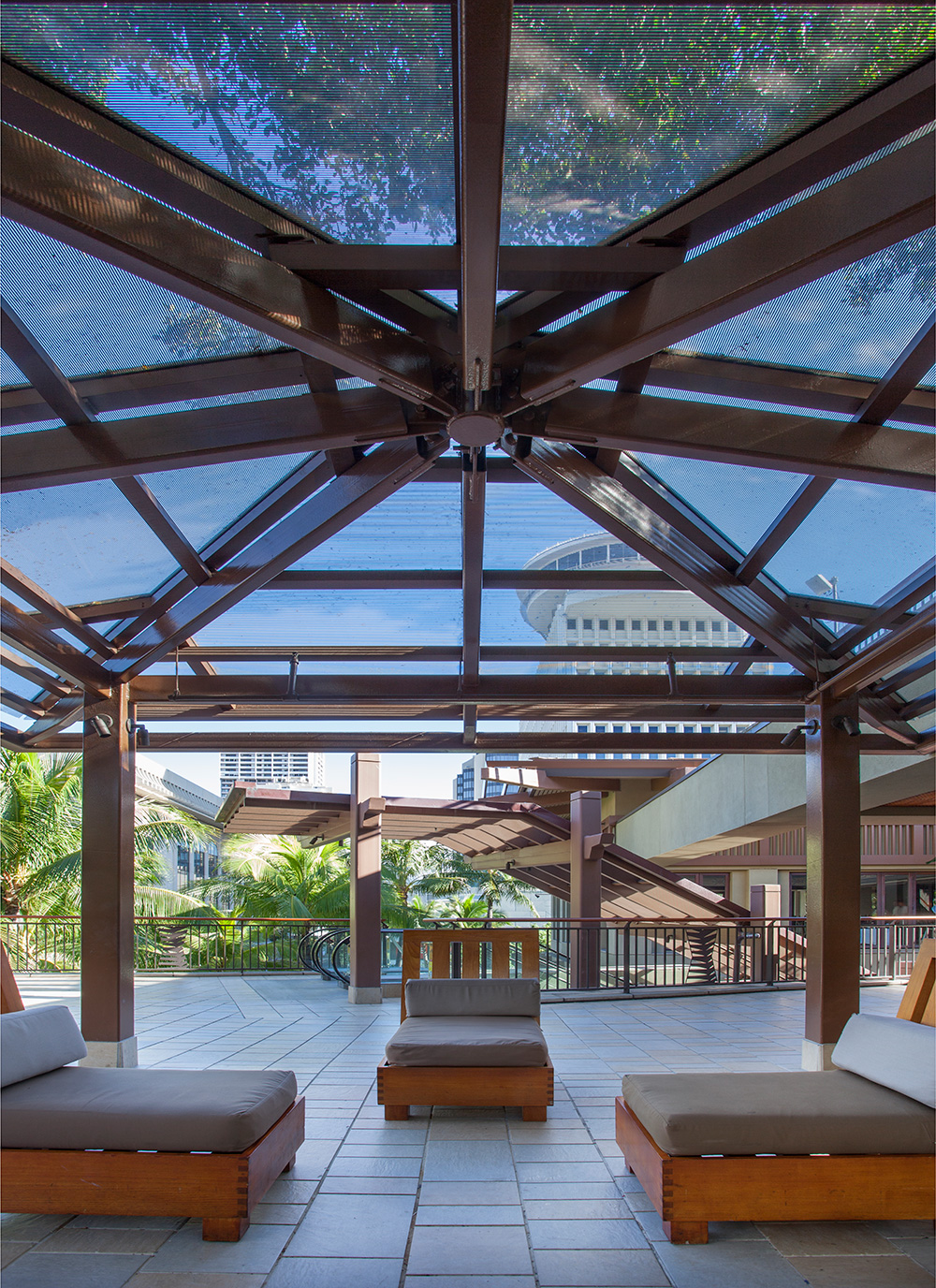 Supporting environmentally sound practices, Linetec's painted coatings are applied in a controlled facility that safely captures and destroys the VOCs present in liquid solvent-based paints before the finished products' arrival on the building site. The aluminum used to produce these products may utilize recycled content, and may be recycled after their useful lifespan.
"With these high-performance painted finishes, the Royal Hawaiian Center's skylights can be expected to look great and perform well for many years to come," adds Schroeder.
With its renaissance, the center has attracted new retail tenants. It now hosts the largest concentration of flagship stores in Hawaii including Apple, Cartier, Fendi, Harry Winston Salon, Hermes, Jimmy Choo, kate spade New York, Loro Piana, Omega Boutique, Rolex Boutique, Salvatore Ferragamo, Tourneau, Tory Burch and Valentino, in addition to locally owned stores such as Fighting Eel, Island Slipper, Koi Honolulu and Leather Soul.
For more information, visit http://www.royalhawaiiancenter.com.
Linetec is one of the nation's largest paint and anodize finishers, and the largest independent architectural finisher. Located in Wisconsin, Linetec is a subsidiary of Apogee Enterprises, Inc. For more information, visit http://linetec.com.
PHOTO CREDIT: All photos by William Lemke, courtesy of Super Sky Products Enterprises, LLC
SOURCE: Linetec