Omaha, Neb. — Scooter's Coffee has appointed Joe Thornton as its next chief executive officer, effective Jan. 1, 2024. Thornton currently serves as the company's president and will succeed Todd Graeve, who will retire after serving as CEO since 2016 and after nearly two decades in the Scooter's coffee business.
"Joe has been a blessing for our business since joining as president. He's an exceptionally experienced leader in the restaurant, franchise and retail industry, and I know Joe is the right leader for us in our next acceleration of growth," says Don Eckles, co-founder and chairman of Scooter's Coffee, LLC.
The remainder of 2023 will serve as a transitional period for Thornton and Graeve.
Thornton has 40 years of leadership experience in large-scale operations, strategy and human resources at some of the most prominent industry-leading companies, including most recently as chief operating officer at HMSHost and, prior to that, chief operating officer at Jamba Juice. Thornton also spent 25 years combined at Starbucks and Blockbuster in executive leadership roles earlier in his career.
"During this exciting time and planned transition, I also must acknowledge the incredible impact Todd had on the company. We wouldn't be where we are today without him," says Eckles. "He always walked with integrity and was vigilant about protecting the company's core values as we grew. Every brand says they will maintain their core values as they grow but often lose their way somehow."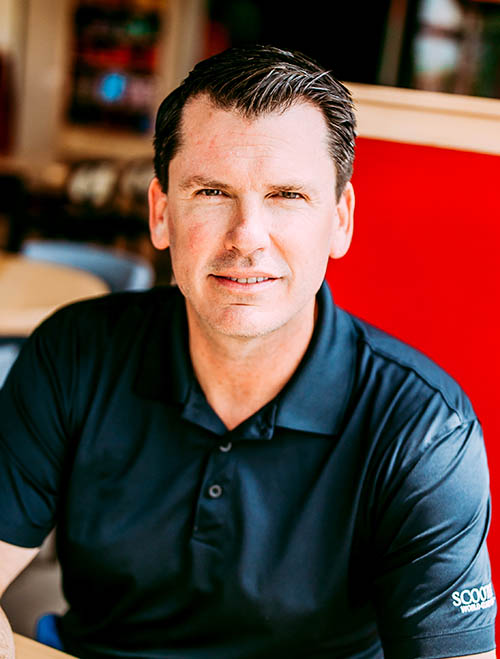 Graeve joined Scooter's Coffee in 2005 as a franchisee and developer in Kansas City, alongside his business partners. In 2008, he joined the leadership team at the company as chief financial officer of Scooter's Coffee. He served as CFO for 8 years, before transitioning to CEO in April 2016.
Scooter's Coffee was founded in 1998 by Don and Linda Eckles in Bellevue, Neb. Its network is approaching 750 stores in 30 states, and the company plans to have more than 1,000 stores open by the end of 2024. Scooter's Coffee is striving to become the Number 1 drive-thru specialty coffee franchise system in the nation. For more information, visit www.scooterscoffee.com.
SOURCE: Scooter's Coffee