— By Ted Stouch —
From service programs to vendor selection, everything you need to know about choosing a national sign service provider.
An integral part of any business owner or facilities manager's job is looking for a national sign service company to maintain their storefront signage. Your signage is a significant part of your brand identity, and it's how customers, executives and prospects identify your location.
Maintaining this signage can become a challenge with all the other tasks associated with running a business. For instance, we've all seen the stores that have one letter burnt-out of the sign. Besides looking unprofessional, it really detracts from the customer's perception of the space and your business in general. Today, we are going to review the different sign services available as well as the vendor selection process.
Types of Sign Maintenance Offered by a National Sign Service Company
On-Demand Maintenance
A conventional signage maintenance regimen for many businesses is the on-demand maintenance model. When we say on-demand maintenance routine, think "break-fix." So, in this model, when there is an issue with your signage, you would call your national sign service company and schedule a repair to be done.
As with any approach, the on-demand maintenance routine has its advantages and disadvantages. Many times, the on-demand approach can be perceived as cheaper since you're only paying the national sign service company when you have an outage in your lights. However, there are many disadvantages as well, to name a few:
Signs may have outages without store management knowing about it.
On-demand doesn't allow for inspections and annual cleanings to the signs.
Timers for lighting could remain on during daylight savings time. This could lead to paying additional electric fees that you wouldn't have otherwise paid.
Scheduled Maintenance
The other model is a scheduled maintenance routine, in which your signage is serviced on a quarterly or bi-yearly schedule by your national sign service company. The regimen has significant advantages over on-demand; a few illustrations are noted below.
Reducing Outages: Since your lights are being serviced quarterly, there is less time when you may have outages. This helps to maintain a strong brand image for your organization.
Cleaning: Scheduled maintenance also includes "face-cleaning." Depending on your environment, signage can really accumulate dirt and grime (which deteriorates the illumination of your signage).
Preventative Maintenance: The quarterly visits and inspections also allow technicians to find problems before they create outages and other technical issues for your organization.
Lower Utility Bills: By scheduling a visit on your signage, technicians will adjust your timers based on daylight savings time. Over time this will save you money on your monthly utility bill.
Ensures Professionalism for Peak Time: Installing a scheduled maintenance routine will ensure that your signage looks great during peak season — like around the holiday season.
As you contemplate installing a scheduled lighting program for your facility, you may wonder: What are the disadvantages of this program? The main disadvantage is that you may be servicing your lighting when there are no "visible" problems. However, as with any maintenance program, you will be catching issues before they cause larger problems for your business.
National Sign Service Vendor Selection Process
Now that you have a better understanding of the services a national sign service company might offer, it is time to look at the vendor selection process. The sign services vendor selection processes can be challenging and downright complicated if you don't approach the task with a game plan. Below you will find a five-step game plan for selecting your new national sign service vendor. These five steps will cover:
Analyzing your business requirements.
The sign services vendor search.
Request for proposal (RFP).
Proposal evaluation strategies.
Vendor selection post-mortem review.
Analyzing Your Business Requirements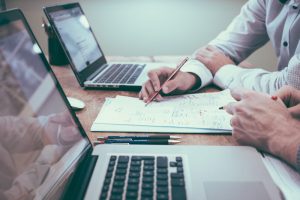 This first step can often be overlooked when on the hunt for a new sign services vendor. In all the excitement, many businesses forget to stop and consider what their business needs from a vendor. So, your first step should be to gather a team of people who are vested in selecting a sign services vendor. Then, in writing, define the products, resources, materials and services you require. Then define any technology or business requirements you want in a vendor service management platform. Finally, define your vendor requirements. Once this is done, have your team review and make any final adjustments.
Potential Sign Service Requirements
Here is a shortlist of potential requirements your organization might want to consider. This is a general list and will need some editing based on your organization's specific needs.
Vendor Response Time: Can the vendor complete your requirements in a timely fashion?
Work Capacity: If you have multiple locations across a state or the country, does the vendor have the capability to service all your locations?
Vendor Resources: Does the vendor have the bucket trucks to reach your various sign heights?
Reporting and Analysis: Does the vendor have reporting and analytic capabilities? Can they integrate with your systems if needed?
Summary of Analyzing Your Business Requirements
Assemble your evaluation team.
Define the products, materials and sign services you need.
Define your technology and business requirements.
Lay out your sign services vendor requirements.
Create a requirements document for approval.
Sign Services Vendor Search
Now that your business requirements have been approved, it is time to start your sign services vendor search. Keep in mind, the larger the scope of work, the larger your vendor pool should be. During your sign service vendor search, you will find vendors that do not meet your minimum requirements. Your team needs to decide which vendors to gather more intel on.
If you need even more information to narrow down your vendor list even more, try writing an (RFI) Request for Information. Once you narrow your sign services vendor search down to a select few, move on to the next step.
Summary of Sign Services Vendor Search
Create a list of potential sign service vendors.
Narrow down your vendor list to ones you would like more info on.
Write and send an RFI.
Review your gathered information and create your shortlist of vendors.
Sign Services Request for Proposal
With your shortlist of potential sign service vendors, you are now ready to write an RFP. Writing a service-based RFP can be just as challenging as the whole vendor selection process. We have created an interactive page for this exact reason.
Sign Services Proposal Evaluation and Vendor Selection
This step is one of the most tedious, mainly due to human emotion or political reasons. When reviewing your potential vendors there is a tendency to go with the vendor you know. This is human nature. But is the vendor you know the right one for the job? Make sure you thoroughly review each vendor and methodically go through their abilities. This is not a popularity contest. If the selected vendor cannot complete the task, you are going to find yourself right back at the beginning of the selection process.
Proposal Selection Tips
Do a preliminary review of all the vendors.
Match up your business requirements with the vendor's capabilities.
Assign importance values to each requirement.
Calculate your value scores.
Select the winning vendor!
Vendor Selection Post-Mortem Review
This last section might sound a bit morbid, but all vendor selection processes should have one. A vendor selection post-mortem review has benefits for both your organization, as well as the vendors. In this last stage, you are going to review your selection process. Below is a shortlist of questions you can ask yourself and team members, to better prepare you for your next vendor selection process.
Questions to Ask Yourself in Review
Was there a portion of your process that could have run smoother?
Were there questions you asked that did not produce the desired answers?
Do you need to rewrite your RFP questions?
Was there a member of the team or department, who did not need to be involved?
Did you achieve your goals in the allotted time?
What are the lessons learned?
Reviewing the Vendors
To wrap up the vendor selection post-mortem review, your last step should be a quick email to the vendors who were not selected. Why? This can be a helpful process for both you and the vendor. This email does not have to belong. But in the email, you should include the reasons the vendor was not selected. This might sound mean, but without this valuable feedback, vendors won't grow and learn. If the vendor's pricing was too high, say that. If their response time is much higher than other vendors, let them know. If you didn't select them because they were too wordy in their RFP responses, tell them. No one is perfect, but by reviewing your own process as well as your vendors' responses, you can get one step closer to a perfect vendor selection process for next time.
We know this can be a tiring and stressful task. We hope this article will help with a successful selection process.
— Ted Stouch is president and founder of Action Services Group, a national service provider offering a single point of contact for all your lighting, LED retrofit, electrical and signage needs. For more in-formation on LED projects and products for your organization, contact Action Services Group: info@actionservicesgroup.com.
classic-editor-remember:

classic-editor

abkw-text: