Oklahoma City — On February 20, SONIC® Drive-In will introduce the brand for the first time in the state of Hawai'i with the opening of a new location in Kahului, Maui. Located within the Ho'okele Shopping Center, the drive-in is owned and operated by North Shore Provisions, LLC, d/b/a SONIC Drive-In Hawai'i.
SONIC Drive-In now has at least one location in 47 states. The new drive-in location in Kahului will offer drive-thru service, patio seating, as well as ordering through the classic SONIC drive-in stalls.
"We've had our mind set on bringing the SONIC brand to Hawai'i for a number of years, and we're so proud of this amazing new location," says Tanishia Beacham, chief operating officer at SONIC. "Our franchisees at SONIC Drive-In Hawai'i worked hard to make this location a reality and to weave elements from Hawaiian culture into the design."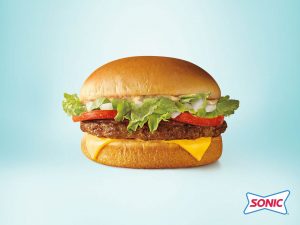 The opening will also debut the new SONIC Teriyaki Burger, developed exclusively for the Maui drive-In in partnership with the Aloha Shoyu Company. The new burger features a 100% pure beef patty topped with teriyaki sauce, American cheese, teriyaki aioli, onions, lettuce and tomatoes, served on a toasted bakery bun.
The new location showcases a custom designed building developed by the architectural firm, RAD LAB, along with a solar power system providing much of the drive-in's power needs. Guests at the restaurant will also enjoy custom murals created by Hilo, Hawaii artist Kristie Fujiyama Kosmides that capture the beauty of the island.
"We're very grateful for the opportunity to bring the SONIC experience to Maui with the opening of the brand's first Hawai'i location," says Edwin Prather, managing member of SONIC Drive-In Hawai'i. "A visit to SONIC is a unique and special experience and we brought that same level of uniqueness to the Maui drive-in, ensuring this location represents the culture and the beauty of our island. From the building's architecture, independent local ownership and the staff that serve our guests — each element proudly reflects the local community."

SONIC, founded in 1953, is the largest drive-in restaurant brand in the United States with more than 3,500 restaurants in 47 states. SONIC is part of the Inspire Brands family of restaurants. For more information, visit www.SonicDriveIn.com and www.InspireBrands.com.
SOURCE: SONIC® Drive-In