Article 110: NFPA 70E best electrical practices — in practice.
By Van Wilkins
Article 110 of NFPA 70E, which is subtitled, "General Requirements for Electrical Safety-Related Work Practices," clearly outlines the responsibilities placed on the building owner/management company to ensure that any individual who works on the electrical system within their facility is trained and equipped with the proper personal protective equipment (PPE) gear and can demonstrate they know how to use them.
While we encourage you to read the NFPA 70E standards document yourself (which can be accessed for free at www.nfpa.org), here are the top four, most common issues we encounter at facilities:
1. Buildings either have no single-line diagram or an outdated single-line.
2. Buildings have arc studies but are missing stickers, an updated single-line mounted in the main electrical room, proper employee training, and how-to working knowledge of the hazards now present.
3.  A lack of accountability with employees and contractors who should be following NFPA 70E standards when working in and around the electrical system.
4. Electrical panels have unplugged holes, exposed live electrical components, improper labeling and missing screws.
In addition to these common oversights, Article 110 outlines the following general requirements:
Relationships with Contractors (Outside Service Personnel, and So Forth)
Host employer responsibilities include informing contract employers of known hazards related to the contract employer's work, and that might not be recognized by the contract employer or its employees.  It also includes providing information about the employer's installation that the contract employer needs to make the requisite assessments. It also covers the responsibilities of the contract employers themselves. A documented meeting between the host employer and the contract employer is necessary as well.
Training Requirements
Extensive training is an important component of NFPA 70E. Training requirements contained in this section apply to all employees who face a risk of electrical hazard that is not reduced to a safe level by the applicable electrical installation requirements. Such employees are required to be trained to understand the specific hazards associated with electrical energy. They must be trained in safety-related work practices and procedural requirements, as necessary, to provide protection from the electrical hazards associated with their respective job or task assignments. Employees must also be trained to identify and understand the relationship between electrical hazards and possible injury.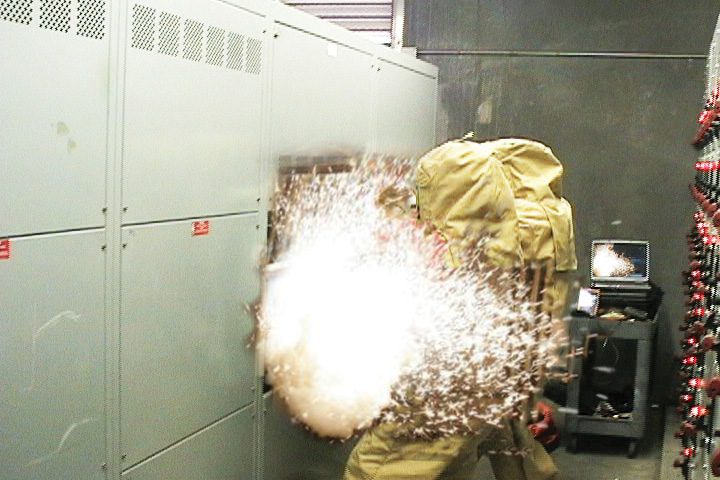 Electrical Safety Program
The employer is expected to implement and document an overall electrical safety program that directs activity appropriate for the electrical hazards, voltage, energy level and circuit conditions.
Use of Equipment
This includes testing and rating equipment, ensuring it is designed for the environment to which they will be exposed, performing a visual inspection and verifying its operation.
Underground Electrical Lines and Equipment
Before excavation starts, and where there exists a reasonable possibility of contacting electrical lines or equipment, the employer must take the necessary steps to contact the appropriate owners or authorities to identify and mark the location of the electrical lines or equipment. When it has been determined that a reasonable possibility for contacting electrical lines or equipment exists, a hazard analysis shall be performed to identify the appropriate safe work practices that shall be used during the excavation.
Common Challenges in Maintaining NFPA 70E Compliance
Many facility managers are burdened by years of deferred electrical system engineering and deferred maintenance of their systems, which makes the upgrades necessary to be compliant seem cost prohibitive. It's a common problem.
More often than not, we find that even basic exercises like testing breakers and disconnect switches haven't been performed because of expense or the fact that it's inconvenient to de-energize the structure. To further complicate matters, loads, fuses and breakers are being changed every year and equipment is constantly being modified, deleted or added. It's rare that we find a facility with an up-to-date engineering review that accurately assesses and verifies the impacts of the changes on the safety of the system.
Yet the risks of deferring electrical management are high. When electrical accidents or failures occur, the effects are unpredictable since the equipment has not been proactively maintained. However, the costs from injuries and equipment repairs exceed exponentially the savings from not having engineering review and proactive system maintenance.
Recently, we've noticed a heightened sense of uncertainty regarding NFPA 70E — and for good reason.
It is a concept we take seriously. As one of the only electrical service providers in the country who can deliver these critical NFPA 70E compliance services in a turnkey manner, we have an equally important responsibility to stewardship. We do not simply apply a sticker and walk away. Our consultation includes a comprehensive assessment of the facility, including a 360-degree report on how to best mitigate all possible risks.
Ultimately, NFPA 70E is a matter of protection: protecting your personnel, your tenants and your business. When anyone comes into your building to address its electrical assets, it is vital that they are safe, aware and trained.
The risks and potential fines associated with non-compliance
It's no secret that if you experience a workplace injury or fatality, you can expect a visit from OSHA. What's more, they will undoubtedly be very curious whether you are compliant with NFPA 70E. While the chances of receiving a random inspection by OSHA are fairly slim, it is possible. The only way to guarantee you are not fined is to be NFPA 70E compliant.
In 2009, OSHA cited an electric company in New York for 14 alleged serious violations of safety standards after a company employee was burned in a May 18 electrical arc flash. The incident occurred as employees were performing maintenance on 34,500-volt electrical switches and transformers.
OSHA's inspection found that one of the switches had not been de-energized as required before employees began their work, nor had the switches been properly barricaded and tagged to prevent exposure to live electrical parts.
OSHA also determined that the injured worker and other employees had not been adequately informed about and supplied with appropriate personal protective clothing. In addition, they had not been adequately trained in electrical safe work practices and in proper hazardous energy control procedures.
Make no mistake. OSHA issues serious citations when death or serious physical harm is likely to result from hazards about which the employer knew or should have known. In this case, OSHA proposed $88,200 in fines.
However, the fines for a fatality begin at $750,000. Yet, as I hope we've made clear, the costs for improper electric management practices are far greater than just dollars and cents.
— Van Wilkins has been a national accounts manager with ABM Electrical and Lighting since November 2012. He has 27 years of electrical experience in construction, service, maintenance, design and safety.