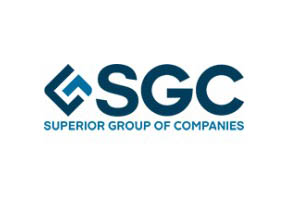 Seminole, Fla. — Superior Group of Companies, Inc. has appointed Michael Koempel to the role of chief financial officer (CFO), effective May 31, 2022. He previously served as COO of various major retail brands.
Koempel, with more than 30 years of broad financial experience, has an impressive record of building and scaling high growth apparel and retail brands. Most recently, Koempel was chief operating officer of IT'SUGAR®, one of the largest specialty candy retailers in the U.S. Prior to that, Koempel served as chief operating officer of Victoria's Secret Lingerie, a multi-billion dollar e-commerce and store-based retailer specializing in lingerie and apparel, from April 2017 to August 2020, and chief financial officer of Mast Global, which is the supply chain division of L Brands Inc. (now named Bath & Body Works®) from 2007 to 2017, among other positions.
Koempel will report directly to SGC's chief executive officer, Michael Benstock.
"We are very excited to welcome Mike to SGC," says Benstock. "Mike brings with him excellent leadership and team building skills, honed in companies that experienced substantial success while he was part of their senior management. His broad experience both overlaps with and is complementary to our current business. We look forward to leveraging Mike's knowledge and passion to grow SGC."
Alongside the hiring of Koempel comes the announcement that Andrew D. Demott, Jr. will resign as chief financial officer, effective May 31, 2022, but will remain with the company as its chief operating officer and as a director. Demott intends to retire as an employee in 2023.
Adds Benstock: "Andy has been a very important piece of SGC's success over the last 24 years. While I am professionally, and personally, saddened that Andy will retire as an employee in 2023, I am pleased to know that Andy will remain with the company as our chief operating officer for a while, and that his hand-selected replacement is primed to hit the ground running."
Superior Group of Companies™, formerly Superior Uniform Group, established in 1920, is a combination of companies that help customers unlock the power of their brands by creating extraordinary brand experiences for employees and customers. It provides customized support for each of its divisions through its shared services model. For more information, visit www.superiorgroupofcompanies.com.
SOURCE: Superior Group of Companies™
classic-editor-remember:

classic-editor

bs_sponsor_advertiser_id:

109286

bs_sponsor_advertisement_id:

bs_ads_disabled:

abkw-text: