Los Angeles — This month, sweetgreen released its first 2022 Impact Report, detailing the company's ongoing initiatives to build a sustainable food system and responsible business. The report highlights sweetgreen's Fiscal Year 2022 progress toward its Environmental, Social, and Governance (ESG) goals, including its commitments to becoming carbon neutral by 2027.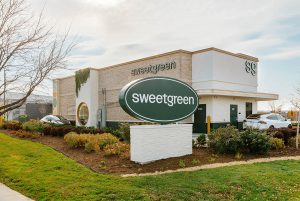 "Since day one, we have recognized the connection between our mission to build healthier communities by connecting people to real food, and creating sustainable solutions to deliver better products for our customers that are responsibly made," says Jonathan Neman, co-founder and CEO. "This first Impact Report is the culmination of our teams' efforts, and I'm proud of the progress we have made together in creating a positive impact in the lives of our customers and communities."
Milestones in the report include:
Supporting sustainable growers: In 2022, sweetgreen purchased over 5 million pounds of organic greens, with 65% of its produce suppliers using organic, integrated pest management (IPM), or transitional growing practices.
Measuring carbon emissions: Together with its partner, Watershed, sweetgreen calculated the emissions of its menu items and published the emissions data and methodology on its website.
Introducing carbon-friendly items: The Hummus Crunch Salad at 0.3 kg CO2e is its lowest carbon meal to date.
Reducing emissions intensity: Since announcing its commitment to becoming carbon neutral in February 2021, sweetgreen has decreased emissions intensity by 12% from its 2019 baseline while maintaining company growth.
Investing in clean energy: 100% of operations are powered by clean electricity purchased from solar farms in North Carolina certified by Watershed, reducing its Scope 2 emissions to zero.
Mitigating environmental impacts: 79% of waste was composted or recycled based on restaurants where its partner, Rubicon, manages landfill, compost and recycling streams.
Sweetgreen's 2022 Impact Report was prepared following the Global Reporting Initiative (GRI) Standards Core option and relevant Sustainability Accountability Standards Board (SASB) standards for the restaurant industry. To view the 2022 Impact Report and learn more about ESG at sweetgreen, visit www.investor.sweetgreen.com.
Sweetgreen, which operates 195+ restaurants, has a mission to build healthier communities by connecting people to real food. For more information, visit www.sweetgreen.com.
SOURCE: sweetgreen