Irvine, Calif. — Taco Bell has opened its latest Cantina restaurant experience in the heart of Los Angeles, along the iconic palm tree-lined Hollywood Boulevard. The latest Cantina restaurant — known for its boozy drink menu and all the craveable menu items fans have come to expect — sits on a historic 1920s Hollywood property, once a bookstore known as a book lover's haunt for movie stars, merging a "golden-age" design with modern, digital-only ordering and pickup.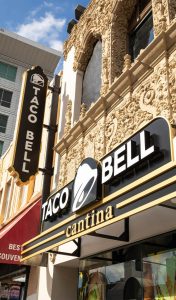 The Hollywood Cantina is the first Cantina in Los Angeles County. With more than 350 Taco Bell restaurants in the Southern California area, the Hollywood Cantina reaffirms the brand's goal to operate 10,000 restaurants and become a $20 billion brand within this decade.
"We're excited to be part of L.A. history with the continued expansion of our Cantina concept," says Mike Grams, Taco Bell's president and global COO. "These flexible formats are bringing iconic Taco Bell experiences to our fans across America, made possible by strong partnerships with our franchisees and the best restaurant teams."
Below are the unique elements of both the restaurant itself and its historic surroundings:
Digital Ordering: Fans can order from standing menu kiosks inside the restaurant. The restaurant's five kiosks supplement traditional menu boards, giving guests the opportunity to take ordering into their own hands, with a golden-age era vibe.
Party at the "Taco Shop": From a movie screen to DJ-ready speakers and connections at the Taco Shop, Hollywood Cantina is set to offer more than just craveable food and alcoholic or non-alcoholic drinks. Customers will also be able to purchase their very own Taco Bell merchandise from a curated collection.
Historical Landmark: In a perfect pairing of old meets new, the newest Taco Bell restaurant is housed within one of Los Angeles' most historic areas, known for palm-tree lined, star-studded streets. 6741 Hollywood Boulevard was built in 1917, in the Churrigueresque style. Most notably, the building hosted the bookstore Pickwick in the 1930s, owned by Louis Epstein and named after Charles Dickens' classic The Pickwick Papers. Many of Hollywood's most iconic entertainment stars were frequent visitors.
Improved Team Member Experience: The elements of the typical Cantina are paired with the digital design elements the Hollywood concept offers. It's designed to simplify and modernize the consumer experience, which in turn, optimizes and redeploys the role of the team member within the restaurant experience.
"Taco Bell Cantinas continue to embody the spirit of the community, with our latest Hollywood location," says Brian Cox, owner of C&R Restaurant Group, one of Taco Bell's franchisees.
"We're continuing to push the boundaries and innovate for communities hungry for elevated dining experiences from quick-service restaurants they love, and our new Hollywood Cantina is poised to be a guest favorite," adds Mark Reed, owner of C&R Restaurant Group.
For more information, visit www.TacoBell.com.
C&R Restaurant Group, LP, is a Costa Mesa, Calif.-based franchisee of Taco Bell, operating stores in Los Angeles and Orange counties. Created in 2012, C&R Restaurant Group prides itself on bringing a family culture into each of its locations, proudly delivering local communities fast, safe and friendly drive-thru and dining experiences.
SOURCE: C&R Restaurant Group