Greensboro, N.C. — Tanger® Outlets, a leading operator of upscale, open-air shopping centers, will open its 37th shopping center, Tanger Outlets Nashville, on October 27. The 290,000-square-foot open-air shopping center, located in southeast Nashville, Tenn., is the first outlet center and one of the few major shopping centers in the United States to break ground and deliver to the market since 2019.
The center features a transformational design intended to foster onsite experience and consumer engagement, as well as to facilitate product interaction and pickup. This consumer-informed design and an in-demand location — in one of the fastest growing metropolitan areas in the country — have helped Tanger Nashville secure leases for 96.5% of its retail and restaurant space. These leases include a distinctive assortment of brands that reflect Tanger's commitment to diversify and enhance the shopping experience.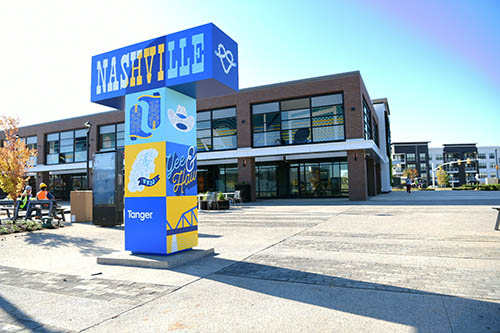 "Tanger Nashville was designed by a team inspired to transform what we have come to expect from a shopping center experience," says Stephen Yalof, president and CEO of Tanger. "I believe we have achieved that vision and created a destination that will serve our guests' needs and expectations for years to come. Our unprecedented leasing success is a testament to the resilience of physical retail and the market's demand for our brand of shopping, that can offer a truly differentiated experience to guests and retailers alike."
Tanger Nashville has 60 retail stores across seven buildings and The Green, a central outdoor community space for programming and activations. Guests will also be able to enjoy locally and nationally acclaimed food and beverage options, including sit-down restaurants and quick- service offerings. Nearly one quarter of the assortment at Tanger Nashville are brands that are either new to Tanger's portfolio or first to the outlet channel, including several digitally native brands and iconic Nashville eateries.
Tanger also invested in onsite renewable energy, butterfly gardens, electric vehicle charging stations and other sustainable operations programs, as well as advanced security measures to support the health and well-being of the Nashville community. For more information, visit www.tanger.com/nashville.
Tanger Factory Outlet Centers, Inc. has centers that comprise over 14 million square feet located in 20 states and in Canada. Tanger has more than 42 years of experience in the outlet industry and has been a publicly traded REIT since 1993. For more information, visit www.tanger.com.
SOURCE: Tanger Factory Outlet Centers, Inc.