Since its accelerated expansion in 2010, Oil & Vinegar is quickly becoming a nationwide brand.
After experiencing Oosterhout, Netherlands-headquartered Oil & Vinegar stores while living in Europe, Matt Stermer, president and CEO of Oil & Vinegar's USA organization, decided to tap into an underserved market and bring the brand to the West Coast of the United States.

Stermer (pictured here) was originally attracted to the uniqueness of the brand, which emphasizes customer experience, and the retail focus on a healthy, food-related concept, something he thought would prove popular in the United States. Additionally, on a personal note, Stermer was attracted to the European connection and appeal of the company, as he wanted to keep a connection to Europe even while he lived in the United States.
With more than 70 stores in 10 countries, the Oil & Vinegar concept is holding its own across three continents. Seattle, Washington-based Oil & Vinegar USA currently operates 13 franchise stores across the country, including stores in Washington, Montana, Oregon, California, Arizona, Texas, Alaska, Louisiana, Florida, North Carolina and Virginia.
"The concept is very niche, and quite different from what most consumers expect to see when walking through the mall," explains Stermer. "The shopping experience we offer has been very well accepted in the United States, primarily because it touches on all of the consumer senses — tastes, smells, sounds and sights — and represents a great new gift option for all occasions."
Small Footprint, But a Lot to Sell
The small, boutique-style gourmet shop typically has a 1,000-square-foot footprint and features a contemporary Mediterranean kitchen design and theme. The stores carry approximately 350 items, mostly packaged food items, including oil and vinegar, as well as culinary accessories, including ceramic table wares, cruets, salt and pepper mills, and international cookbooks. The stores offer a variety of bottled and on-tap oils and vinegars, mustards, sauces, salad dressings, olives, grilled vegetables, sun-dried tomatoes, honeys, jams, fondue chocolates, dried herb mixes, spices and various flavored pastas. Additionally, the company stocks mostly imported goods from Italy, Spain, Greece, France, South Africa and Germany among others, as well as local and regional favorites, including California extra virgin olive oils and Washington state grape seed oils.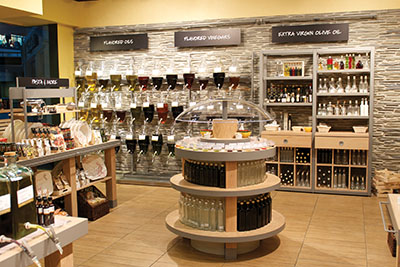 The store is designed to entice and maximize customer experiences with the tastes and smells of the products. Customers are referred to as "guests" and are encouraged to sample, taste and explore the store at their leisure and receive advice on product use and recipe ideas from the knowledgeable staff, which focuses on engaging customers in three key aspects — experience, service and adventure.
"Our staff training focuses on a service approach designed to deliver a memorable experience that revolves around tasting and discovering new ways to use our products," says Stermer. "At any given time we have more than 60 products out and available to taste at our various sampling stations."
Oil & Vinegar also focuses on the visual merchandising of the stores, highlighted with each store's "amphora wall." This focal point features an international selection of about 60 oils and vinegars that are in "amphora-shaped" decanters suspended from a faux stonewall fixture. Guests can select a bottle or bring in a previously purchased Oil & Vinegar bottle and fill or refill it with the on-tap selections.
Stermer notes that the visual merchandising of Oil & Vinegar differentiates the store and its products from typical grocery stores. "The stores contain well-organized merchandise that is positioned on the shelves to tell a story about the product category or country it is from, which speaks to the boutique and high-end offerings we provide," he says.
Typically in High-End Areas & Looking to Expand
Since launching the Oil & Vinegar brand in the United States in 2004, the company was slowly expanding year to year until 2010 when expansion took off, and the company doubled in size in 2012. With currently 13 locations and a handful of franchises slated to open this year, Oil & Vinegar expects to round out 2013 with 18 to 20 locations in the United States.
As a franchise-based company, Oil & Vinegar is always looking for interested partners to open stores nationwide.
When evaluating store locations, the company typically focuses on demographics that include foodies and educated culinary types. Stores are usually found in upscale malls or high-end, high-traffic shopping centers within markets with high education levels and an average household income of $80,000 or more.
States like Florida, California and Texas are proving successful for the brand due to their customer profiles and wants, which are aligning with the store's offerings.
Additionally, markets that have strong international influences in food and demographics are attractive to Oil & Vinegar's expansion efforts.
For future expansion, the company will not be slowing down. In 2014, Oil & Vinegar plans to open eight to 10 new stores and continue to accelerate its expansion.
"In 2015 and beyond, we're looking at 10 plus locations per year until we are present in all relevant markets where we feel a consumer need can be served," says Stermer.
Trend Toward Quality & Integrity
Oil & Vinegar's recent growth in popularity and expansion is not too surprising due to the current trends in the gourmet food industry.
There has been a significant shift and focus to the quality and integrity of culinary products, especially food and food-related products. Oil & Vinegar has experienced this manifest in its market with concern about the quality and integrity of extra virgin olive oils.
"This trend has helped us because we pride ourselves on delivering the best quality products," explains Stermer. "We want to ensure our guests know what they're buying, so we allow them to sample any of our products, of which one can typically acknowledge the quality through taste."
Gourmet as Gift
Another aspect of Oil & Vinegar is its pre-made and customized gift packages, which is a trend within the gourmet food industry. Customers are able to select pre-packaged gifts or create their own gift baskets with the help of Oil & Vinegar's staff. Stermer explains that there is a significant gift component to the company's business and that the customized gift-wrapping to meet individual shopper's needs really adds to the guest experience of the store.
In addition to customized gift baskets, customers are also able to create personalized labels for a variety of products for use at weddings, corporate events or other gifting purposes.
Additionally, the gourmet food industry is experiencing an increase in the gifting of healthy, gourmet items instead of the traditional bottle of wine or box of chocolates as housewarming, hostess or Christmas gifts, notes Stermer.
This trend bodes well for Oil & Vinegar, as a large part of its market segment is food gifts, which is becoming more and more popular.
Oil & Vinegar's core element of creating a unique customer experience for each guest has definitely made its mark in the U.S. gourmet-food market.
As consumers' interest in interaction and high-quality culinary foods continues to grow, Oil & Vinegar should also experience an uptick in its popularity and expansions efforts.
 — Amy Bigley Works is a contributing editor of Retail Facility Business magazine. This article originally appeared as the April/May 2013 cover story. Email the editor, Katie Lee, at [email protected].