Jeff Van Essen, Director of Strategic Accounts
Nilfisk-Advance, Inc.
Achieving green, clean and cost control with a flexible floor care program.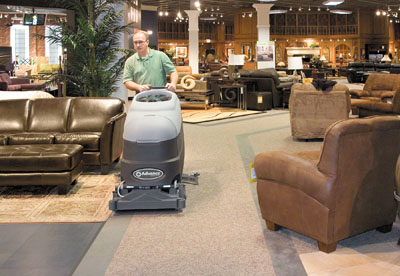 You've heard the saying: "How do you want it — fast, cheap or good? You can choose two." The message, of course, is that you can't have everything. But professionals who are cleaning retail floors today are being asked to deliver pretty much everything. In-house cleaners and building service contractors (BSCs) alike are facing demands to:
• Improve environmental sustainability
• Maintain high levels of cleanliness
• Keep costs down
How are successful cleaning pros managing these competing demands? By being flexible. Flexibility is the mantra for 21st century business. Successful retailers have embraced it and they expect their cleaning services to likewise flex with changing cleaning and environmental needs, budgets, financing and more.
According to Ciprus Ltd. LLC's latest Commercial Flooring Maintenance study reported in October of 2009, nearly 75% of all retail floors are hard surfaces. Of these hard floors, 98% are concrete, resilient tile, laminate and stone or ceramic. These floors are routinely cleaned and maintained with automatic floor scrubbers that, in the past, were not equipped to go from the gentle detergent and pad pressure needed in, say, administrative offices or back rooms, to more heavily used aisles, and onto the most heavily soiled areas like entryways. Similarly, retailers that utilize carpeting with hard floor connecting aisles have had to purchase both carpet extractors and hard floor scrubbers to effectively clean their floors.
But today there are floor cleaning machines that make cleaning different floor coverings and areas possible with a single machine. The key to meeting retailers' competing requirements for green, clean and cost control is matching the right cleaning regimen to each surface type and soil level with the minimum amount of time, effort and materials. Let's look at the issues involved in creating a flexible floor cleaning program.
Flexible floor cleaning factors
Have multiple solutions (water and detergents) available for each hard floor cleaning job.
Because there is no single "best" approach for every hard-floor scrubbing need, being able to match the solution to the soil is vital to an effective cleaning program. Cleaning with just water reduces environmental impacts and possible health hazards (no chemicals to buy, mix or dispose of), as well as eliminates the cost of cleaning chemicals. But water alone can't adequately clean high-traffic areas or cut through certain soil types such as grease, oil or food stains. For these situations, detergents are necessary. A scrubber with built-in flexibility enables workers to match the appropriate levels of detergent and down pressure with variable scrubbing modes such as:
• Low-flow, water-only scrubbing with light down pressure for low-usage, low-soil areas.
• A green-certified detergent diluted at the manufacturer's suggested ratio coupled with standard flow rate and down pressure for moderate traffic areas.
• A stronger, less diluted detergent mix along with added pad pressure and water flow for difficult messes or heavily soiled areas.
Too many cleaning programs don't use variable cleaning practices and end up catering scrubbing strength to the dirtiest hard-floor areas of the retail facility. Proper application of water, detergent and down pressure eliminates the risk of exposing customers and employees to excessive detergent use. It also reduces the costs and environmental impacts of over-using water and detergents while ensuring that floors are correctly cleaned.
Spend more time cleaning, less time getting ready
With labor contributing up to 90% of the total cost to clean, the more time workers spend cleaning, the more cost-efficient the cleaning program. Proper planning and the right equipment can reduce setup/cleanup processes, making it possible for staff to make adjustments while they're cleaning.
Ideally, a floor scrubber dispenses water and detergent separately so that workers don't have to pre-mix solution or empty tanks to change detergents or solution strength. With a flexible floor scrubber, workers can adjust scrubbing performance between low-traffic areas, heavily-soiled entryways, and spill-prone food service areas without having to stop, change equipment or mix new solutions. For primarily carpeted stores, a combination extractor/scrubber allows one worker with one piece of equipment to clean the entire floor.
Use fewer machines for more tasks
Automatic scrubbers and carpet extractors represent a significant investment for retailers or the BSCs that clean their facilities. Purchase price is only one part of the overall cost — although one that can be handled flexibly, too, through equipment leasing programs like those mentioned in the next section. Every cleaning machine requires operator training, storage space, new parts and ongoing maintenance. Versatile, multi-use equipment can mean buying and maintaining fewer machines, which reduces all these costs.
Users of flexible cleaning equipment extol their virtues. Randy Britton is an operations manager with Service Management Systems (SMS), a national BSC that cleans all kinds of commercial buildings, including retail facilities. "The flexible scrubbers we're using make it easier to make adjustments when and where we need to, and that's time savings that we can pass on to our customers," Britton says. He went on to note that his flexible scrubber "has paid for itself in labor and future accounts because of the job it can do."
Flexible capital management
Beyond the flexibility that retail cleaning professionals need to deliver in terms of cleanliness, environmental care and labor costs, a truly flexible floor care program also offers equipment financing options. This is particularly important to retailers since the 2008 recession. Capital expenditure budgets have been trimmed, so buying new cleaning equipment to do the job better and more efficiently has become more difficult.
Some equipment manufacturers have addressed this concern by offering rental programs, particularly programs that include maintenance agreements. These "fleet management programs" allow retailers to utilize new, environmentally friendly, efficient equipment by paying for it and their cleaning services out of their operations budgets.
The advantages of a fleet management program are hard to beat:
• No upfront capital outlay or equipment financing.
• Equipment covered by the operations budget.
• Hassle-free maintenance agreements.
• Use of the newest, most environmentally-safe and efficient machinery.
Retailers today have had to be flexible to stay in business in a rapidly changing world. So it shouldn't come as a surprise to facility maintenance and floor care professionals that their retail customers expect versatility in the way they do business too. Luckily, cleaning equipment manufacturers are responding with flexible equipment and rental programs, making it possible for cleaning professionals to meet the changing needs of their retail owners and customers.
— As director of strategic accounts for Nilfisk-Advance, Inc., Jeff Van Essen develops flexible programs with retail cleaning professionals to improve sustainability and efficiency.