T-Mobile launches a bold new global design in 400 stores.
T-Mobile USA has unveiled its new global design that will be installed in 400 new and remodeled stores across the country. Additionally, minor refreshments will be completed in another subset of stores.
The first two stores to receive the remodel were the Southcenter Parkway and Minkler Boulevard store in Tukwila, Washington, and the Seventh Avenue and 48th Street store in New York City.
The new store design incorporates wood-finished floors, more contemporary looking fixtures and the addition of some magenta elements. Also important to the remodel is the addition of LED lighting and enhanced energy saving opportunities.
"The new stores are very open, bright and brand-forward," says Debra Coates, senior director of store development of T-Mobile USA. "The design opens the flow of the store."
Coates says the purpose of the remodel is to create an environment that will allow customers to shop more easily. When customers enter the store, they will be able to see the products better. Phones are divided into the type of handset they are and the accessories for each kind of merchandise will be placed close to the product.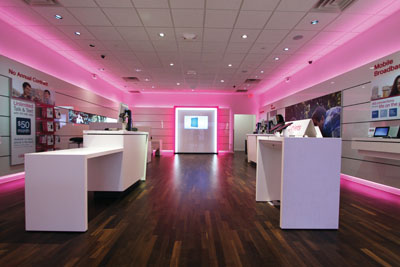 Sales associates can help customers either at a traditional standing service counter or at one of the new seated service desks which offer more privacy.
Another change to the stores is the incorporation of technology. Each store will feature a 55-inch TV monitor that will promote new merchandise, allow for training or simply display a message. Also, Coates says there will be a vertical highlight panel with a touch screen.
"The customer can use it as a stand-alone or a sales associate can use it to walk customers through the features of a handset," she says. "It's a really interactive experience."
Coates says T-Mobile will continue to add the new design to its stores until they have all been converted.
— Savannah Duncan is an assistant editor with Retail Facility Business magazine. She may be reached at [email protected].