Snow and ice management contracts offer a variety of services and cost-savings for your company.
As a retail facility manager there are many contract agreement options available to protect a retail center's ownership group and keep retail tenants safe from potential accidents during dangerous weather conditions. With whatever option is selected, safety should be paramount! In today's highly litigious society the average cost for a slip-and-fall claim is approximately $30,000 according to the Bureau of Labor Statistics.
Below are a few contract options available when negotiating snow and ice management services for a retail center and some of the advantages and disadvantages of each:
Seasonal
A seasonal agreement is a fixed flat rate pricing for the winter snow and ice management season. It can be all-inclusive or can have provisions such as caps, where additional fees would kick in after various seasonal amounts are recorded; and blizzard contingencies, where time and material rates kick in when excessive snows falls occur over a 24-hour period. This agreement typically has equal payments over the winter service period. From a facility manager's point of view, this should best be evaluated as an insurance policy for the tenants.
Advantages. Common area maintenance fees are fixed and can be budgeted, so tenants will know the fixed cost. Invoice management can be greatly reduced, as the bills will not be variable.
Disadvantages. There can be a great risk with this option as most vendors typically base pricing and material/ labor calculations off of a typical or historical winter season. With that said, when seasonal accumulations are less than average tenants/ownership may overpay for the services.
Per Event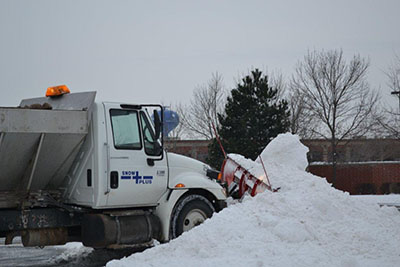 A per event agreement is one that provides a fixed pricing per snow event based on the number of inches for that specific storm. It typically includes all snow clearing of lots and walks, as well as salting services. With this option, services will begin at a pre-determined, agreed upon snowfall level — zero tolerance, ½-inch or 1-inch trigger typically — and continue throughout the event until the storm is over and the property is clear and safe.
Advantages. Because the event pricing is preset, there is no guessing at what the total costs will be for that particular weather event. Per event pricing allows owners to only pay for the events when they occur, unlike a seasonal contract when owners are locked into a fixed seasonal cost regardless of how much snow or ice may occur for the season.
Disadvantages. Per event agreements are more difficult to budget, as the number of events for a winter season may fluctuate. However, in a heavy snow/ice season, the diversification of per event pricing can help offset the potential budget overages with seasonal contracts if owners exercise seasonal agreements at other locations that they manage for the same ownership group.
Time & Material
A time and material agreement provides fixed fees for labor (typically in hours) and all pieces of equipment that would be used for a snow/ice clearing service. Snow and ice melting chemicals also have predetermined costs for applications, typically per ton on rock salt and per bag on sidewalk melting products.
Advantages. Owners and managers are paying for exactly what is done at a site.
Disadvantages. Time and management contracts can be a tracking and invoicing monitoring nightmare. Sometimes equipment may be used or allocated to a site that is excessive of what is actually needed to keep the site clean and safe. Clearing efficiencies are often overlooked and are not re-enforced, as they may not be a concern for your contractor. For instance, an end loader with a snow pusher may be four to five times more efficient than a smaller piece of equipment that is trying to "wind row" snow to the ends of drive aisles. In this specific example, since the proper and most efficient equipment is not being used owners will be billed a higher amount than if the larger more efficient equipment was used. Also, since it is taking a longer period of time to clean an area, the liability and potential safety risk is increased.
Per Occurrence
A per occurrence agreement has costs associated with each trip a contractor makes to a site during a weather event. It is typically tiered — 1 to 3 inches, 3 to 6 inches, and 6 to 9 inches — and invoicing amounts would reflect the pre-determined agreed upon amounts. Application costs for parking lot and sidewalk snow/ice melting chemicals are usually flat rates. 
Advantages. Managers are actually paying for the specific service visit. Efficiencies are paramount, as a contractor will get paid the same fee whether or not they are efficient. With that said, a contractor will use the largest and most efficient equipment for clearing your lot and sidewalks timely, reducing liability while minimizing the potential safety risks.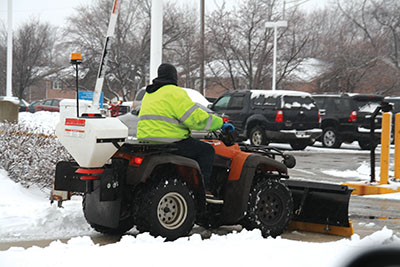 Disadvantages. Oftentimes, partial lot clearings and saltings are billed as complete clearings, especially during daytime service visits when a retail center has a lot of cars and traffic obstructions. Per occurrence application amounts and daytime clearing rates should be negotiated initially with fixed rates to help avoid overpaying for daytime service visits. When this is done owners are actually paying for what services are actually rendered at a site and there are no surprises when the invoices are received.
Snow Options
This is a relatively new way to protect tenants and ownership in the event of an extremely heavy or considerably mild winter season.
Here's how it works. To protect against low snowfall, in the case of ownership wanting to enter in a seasonal or fixed cost scenario for the center, ownership sells binary option contracts to a market maker like an insurance company, hedge fund or other investor willing to take on the risk.
A specific seasonal snowfall level is agreed upon between the two parties. If snowfall is below that agreed upon seasonal total, ownership offsets the loss of dollars paid out in a seasonal contract with the premium it received from selling the option.
If snowfall is above the designated level, ownership pays out the amount specified in the contract, which is offset by the reduced budget incurred in a high snowfall season. An example of a weather brokerage company is Chicago Weather Brokerage, a Chicago-based company that has dealt with these options since 2006.
The above models provide property managers with a snapshot of many of the different pricing models for snow and ice management used in the industry today. The choice is ultimately up to the property manager or property owners. When setting up snow and ice management specifications consider one of the above options or a combination of them that best serves the safety and budgetary constraints of your ownership group.
Professional snow and ice management should not be taken lightly, and it should be tailored to meet an individual site requirements. It is very important for owners and managers to have a comfort level with regards to a potential contractor and choose a vendor that can handle any winter weather conditions that are thrown at a property.
Being able to handle a blizzard is of utmost importance, review a vendor's blizzard contingency plan and current customers' responses to how they have handled blizzard conditions in the past should be very important in the decision process.
Trying to find a vendor to help dig property managers and retails centers out when the "big one" hits may be a challenging task!<
— Jim Plona is the vice president of sales at Snow Plus Inc., headquartered in metropolitan Chicago, providing professional snow and ice management solutions while minimizing liability and safety claims for retail, office, industrial, and health care facilities in the greater Chicagoland area. Plona can be reached at [email protected].